Monday, April 7, 2008
Lawmakers Honor Retiring Professor Harry Basehart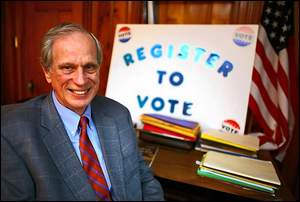 SALISBURY, MD---Dr. Harry Basehart started in Salisbury University's Political Science Department in 1971 and throughout 37 years of teaching, he has mentored thousands of students, many of whom are now leaders and public servants in their own right.
Now, as he is set to retire, many are stepping up to the plate to honor a professor whose career reflects almost four decades of service to his community and students.
On April 4th, Basehart was honored by the Maryland General Assembly with a House resolution, sponsored by the Eastern Shore Delegation, which thanked him for his many years of service to Salisbury University.
In addition, he received a Governor's Citation for his outstanding service to the students and the campus community. Earlier, on March 5th, he was similarly honored by the Maryland General Assembly's Senate.
U.S. Senators Barbara A. Mikulski and Benjamin L. Cardin also sent letters of congratulations to Dr. Basehart, which were read at a reception hosted by SU and the Eastern Shore Delegation in Annapolis following the House resolution.
"Harry Basehart represents the best of what Salisbury University aspires to be: in his teaching, in his scholarship and especially in his dedication to our core value of civic engagement," said SU President Janet Dudley-Eshbach. "He will be missed but we hope he will stay around in some capacity to continue the excellent work of PACE."
During his tenure at the University, Basehart co-founded the Institute for Public Affairs and Civic Engagement (PACE) in 1999, spearheaded civic engagement and voter registration projects, and placed more than 300 students in internships both in Annapolis and on the Eastern Shore. Dr. Basehart has encouraged many young adults to enter public service at the local, state and national levels, and his students say that they will never forget him.
Senior Kasey Wright is one of them. "Dr. Basehart is the perfect embodiment of the two elements that matter most in a university: a passion for the subjects he teaches and a genuine interest in his students," she said.
During his tenure at SU, Professor Basehart won numerous teaching awards including: co-recipient with Dr. Kane of the Wilson H. Elkins Professorship Award, given by the University System of Maryland for leadership and achievement, in both 2005 and 2006; the Outstanding Faculty Award from the Student Government Association, and the Distinguished Faculty Award from the University Forum. He is co-author of the book, State and Local Government: Politics and Public Policies, which, now in its 9th edition, is widely used in political science courses throughout the country.
For more information call 410-543-6030 or visit the SU website at www.salisbury.edu.