Thursday, March 14, 2013
Klingon Klezmer Returns to SU Wednesday, March 27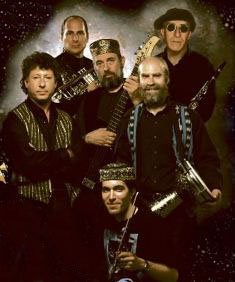 SALISBURY, MD---Salisbury University celebrates Passover with a special dinner in the Bistro of the Commons 4:30-7:30 p.m. Wednesday, March 27, as part of its spring International Dinner Series.
The dinner features a performance by members of Klingon Klezmer. Named for characters on the TV show Star Trek and the type of Jewish party music the band plays, Klingon Klezmer's jazz, funk and Dixieland musicians from Philadelphia combine traditional Klezmer with turn-of-the-century Yiddish socialist worker songs and Kurt Weill-esque torch songs.
They include trumpeter and flutist Stan Slotter; keyboardist Dave "Dr. Funk" Posmontier; and clarinetist, flutist and saxophonist Bob Butryn. Slotter has performed with Cecil Taylor, Grover Washington and Philly Jo Jones, among others. Posmontier has been named Philadelphia's No. 1 jazz pianist. Butryn is the principal clarinetist of the internationally known new music ensemble Relache and has won national swing dancing awards with his show Crazy Rhythm, Fancy Feet.com.
Together, Klingon Klezmer has released two albums, Honey Would You Be Meshuga Tonight and Blue Suede Jews.
Menu items include matzah ball soup, prime rib au jus, baked salmon with basil oil, roasted turkey, matzah stuffing, potato latkes, ratatouille, fresh asparagus, apple crisp and macaroons. SU does not have a kosher kitchen.
University Dining Services and the Office of Cultural Affairs sponsor the dinner. Cost is $11.09, $6.73 for children 5 and under. Reservations are not required. The public is invited. For more information call 410-548-4503 or visit the SU Web site at www.salisbury.edu.