Tuesday, May 16, 2017
King, McEntee Honored With Faculty Senate President's Award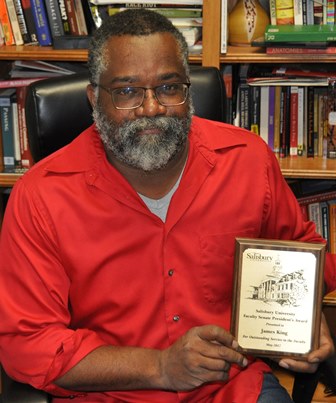 SALISBURY, MD---The outgoing president of the Salisbury University Faculty Senate, Stephen Ford, has honored two faculty members with the Faculty Senate President's Award for Outstanding Service to the Faculty "For their exceptional leadership and extraordinary work in the arduous effort to re-envision General Education at Salisbury University."

Dr. James King of the English Department has served as the faculty co-chair of the General Education Steering Committee since January 2015. He has provided leadership in the preparatory investigation and research into General Education, through the building of an initial, SU-specific General Education Model, and through the current refinement of that model, while engaging as many faculty as possible in the process. He has regularly reported back to Faculty Senate on the progress of this communal effort.


Dr. Shawn McEntee of the Sociology Department has served as a Charles R. and Martha N. Fulton School of Liberal Arts faculty member on the General Education Steering Committee. She serves as chair of the communication workgroup, has administered surveys of alumni, faculty and students, has organized and consolidated the results of the open faculty meetings.

She also is co-coordinator of the Building Interdisciplinary Courses for General Education Faculty Learning Community and has served as a well-versed spokesperson and apologist to explain details of and answer questions about the process to those not as involved, Ford said. Most recently, she created the new online Canvas site "General Education Revision: Ongoing Work" (https://salisbury.instructure.com/courses/16214) as a single-site communication vehicle for all aspects of the General Education effort to date.

"These two individuals have given of themselves extensive service commitments to shepherd this multi-year process along and have remained positive and serve as an inspiration for faculty to collectively complete this process," said Ford.

For more information call 410-543-6030 or visit the SU website at www.salisbury.edu.