Friday, February 6, 2015
Kelly Earns SU Perdue Leadership Award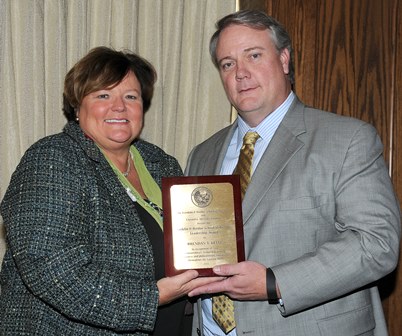 SU President Janet Dudley-Eshbach with Perdue Leadership Award winner Brendan Kelly

SALISBURY, MD---Coaching is as important in business as it is in sports.

Few people know that as well as Smartlink, Driven and Chesapeake Bayhawks owner and CEO Brendan Kelly.

Salisbury University's Franklin P. Perdue School of Business recently honored the former student for his vision and community giving, presenting him with the 2014 Perdue Leadership Award.

Kelly comes from a family of entrepreneurs; seven of his 11 siblings own businesses. After studying at Anne Arundel Community College (AACC) and SU, he spent six years as the director of sales for his family's business, Kelly Generator and Equipment. In addition, he founded The Kelly Group, a mid-Atlantic real estate investment company, which he continues to oversee.

In 2000, Kelly launched Smartlink to fulfill staffing needs for communications companies. With just two initial employees, the company now has more than 700. It also has grown in scope, expanding with a services division in 2006 and accelerating its national footprint with the acquisition of West Coast development and staffing firm RealCom Associates, LLC, in 2012. Adding an information technology division last year, the company now does business in 43 states and is considering international opportunities.

In 2007, Kelly founded Driven, a corporate transportation service initially begun to transport Smartlink's clients and executives. It has since branched into a members-only business, catering to some 87 clients in the mid-Atlantic.

Three years later, he purchased the Washington Bayhawks Major League Lacrosse team, changing the name to the Chesapeake Bayhawks to increase regional appeal. He became the team's head coach during his first season as owner. Using skills learned as an All-American lacrosse player at AACC and as a lacrosse player at SU in 1995, when the team won the NCAA Division III national championship, he led the Bayhawks to the first of three MLL championships. He also used the acquisition to amplify the Smartlink brand nationally.

In the community, Kelly is a member of the Annapolis Youth Lacrosse Association's board of directors. He also spent 10 years coaching area youth sports programs. He is involved with the Boy Scouts of America and regularly supports Mt. St. Joseph and St. Mary's high schools.

In addition, Kelly and his brothers have hosted the Kelly Charity Golf Outing since 2000, donating each year's proceeds to a Maryland family in need. Kelly's businesses have been involved in a plethora of charities and non-profit organizations, supporting causes including youth sports, cancer and diabetes research, holiday food and toy drives, and homeless prevention. In 2014, the Bayhawks hosted the Uganda lacrosse team, helping one team attend the 2014 Federation of International Lacrosse World Championships in Denver.

Others have taken notice of Kelly's generosity and business practices. He has been featured on the cover of SmartCEO magazine, and Ernst & Young has named him an Entrepreneur of the Year regional award winner and national finalist. Smartlink was named one of SmartCEO's "100 Best Run Companies" in 2012. Smartlink and the Bayhawks were nominated for the Annapolis and Anne Arundel County Chamber of Commerce's Don Riddle Corporate Citizenship Award for extensive community involvement.

Kelly resides in Annapolis with his wife and five children.

The name of each year's Perdue Leadership Award winner is engraved on a plaque in the Perdue School. Each honoree also receives a commemorative award.

For more information call 410-543-6030 or visit the SU website at www.salisbury.edu.