Monday, May 8, 2017
Jazz Ensemble Continues SU's Spring Music Festival May 11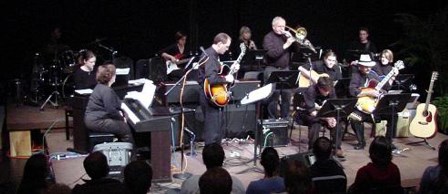 SALISBURY, MD---The Salisbury University Jazz Ensemble, directed by Jerry Tabor, continues SU's Spring Music Festival, "Musical Legends," with a performance 7:30 p.m. Thursday, May 11, in Holloway Hall Auditorium.

The concert features two combos with an emphasis on contemporary tunes and improvisation. Selections include Bill Mobley's "Wayne's World," Donald Brown's "The Insane Asylum" and "New York," Bobby Watson's "To See Her Face," Jim Snidero's "Midnight Dreams." and Donald Edwards' "Ducktones," among others.

Sponsored by the Music, Theatre and Dance Department, admission is free and the public is invited.

The ensemble also performs at the Berlin, MD, Chamber of Commerce's Jazz and Blues Bash 11:15 a.m. Sunday, May 6, opening for the U.S. Navy Band Commodores. The day-long festival takes place on Berlin's Main Street. For more information visit www.BerlinChamber.org.

For more information on the ensemble's SU concert, call 410-548-5588 or visit the SU website at www.salisbury.edu.