Thursday, February 27, 2014
Jackson Chamber Series Presents Minetti Quartet Wednesday, March 5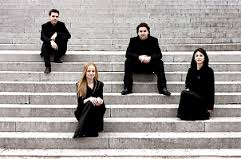 SALISBURY, MD---The Minetti Quartet, hailed in European media as "a musical sensation," continues the Peter and Judy Jackson Chamber Music Series at Salisbury University 7 p.m. Wednesday, March 5.

The Austrian ensemble performs in the Great Hall of Holloway Hall.

Founded in 2003, the quartet is comprised of violinists Maria Ehmer and Anna Knopp, violist Mila Milojicic and cellist Leonhard Roczek. In the past decade, they have won some of chamber music's most coveted honors, including the Haydn Award at the International Joseph Haydn Competition in Vienna and the national Gradus and Parnassum Prize at the Franz Schubert Competition in Graz, Austria.

The group has performed throughout the world, including North and South America, Europe and Asia, at venues such as London's Wigmore Hall and the Palais des Beaux Arts Brussels. Its concerts have been recorded and broadcast live for the BBC and other European radio stations. It has been the artist-in-residence at the Osttiroler String Festival annually since 2009.

That year, Minetti released a critically acclaimed CD of music by Haydn on the Haenssler Classic label. Its most recent album, featuring clarinet quintets by Mozart, Brahms and Sulzer performed by the quartet with musician Matthias Schorn, became available in 2013.

Sponsored by the Peter and Judy Jackson Chamber Music Series and SU's Cultural Affairs Office, admission to the quartet's concert is free and the public is invited. For more information call 410-543-6271 or visit the SU website at www.salisbury.edu.