Monday, January 25, 2010
Ireton Shows Sea Gull Pride During CNBC Interview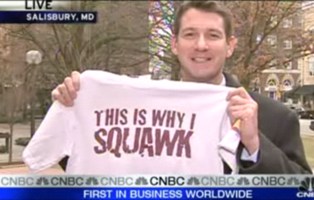 SALISBURY, MD---When Salisbury mayor and SU alumnus Jim Ireton recently appeared live on CNBC's Squawk on the Street to discuss the impact of the recession on his city, he was prepared for any questions the interviewers might throw at him—including those about Salisbury University's men's lacrosse.
Near the close of the interview, Squawk co-host Mark Haines asked Ireton what he thought Salisbury's chances were at winning another NCAA Division III championship in 2010.
In response, the mayor held up a 2009 SU Homecoming T-shirt with the phrase "This is Why I Squawk"—invoking not only his Sea Gull pride, but the name of the program, as well. He also noted SU's recent national "Best Value" rankings in Kiplinger's Personal Finance and The Princeton Review.
Haines responded by letting the audience know that "Salisbury is a perennial Division III lacrosse powerhouse." His Squawk co-host, Erin Burnett, is no stranger to Salisbury either, having grown up in nearby Mardela Springs, MD.
Ireton's full interview is available online at http://www.cnbc.com/id/15840232?video=1391078949&play=1.
For more information call 410-543-6030 or visit the SU Web site at www.salisbury.edu.