Wednesday, November 5, 2008
International Fulbright Student Studies at SU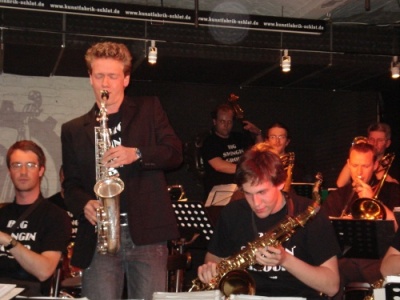 SALISBURY, MD---An international graduate student from Berlin, Germany, has received the prestigious Fulbright Student Scholarship to study at Salisbury University. Florian Mann's academic exchange is between SU and the Technical University of Berlin (Technische Universität Berlin or TUB).
This program is about "building bridges and connecting cultures," said Mann, who is SU's second Fulbright Student.
He picked SU because of its academic arrangement that allows him to receive a dual degree: An M.B.A. from SU and the German Dipl.-Ing. (M.S. degree) with a focus on finance and supply chain management from TUB. SU's exchange program with TUB began in 1997. Since then SU has welcomed more than 20 students to campus. TUB is one of Berlin's largest universities, with some 30,000 students from 130 countries.
"We are very excited that SU is being recognized by the Fulbright Commission as an institution that supports exchanges and international education overall," said Agata Liszkowska, associate director of SU's Center for International Education. "We hope Florian has a wonderful experience on our campus, and is successful in fulfilling the Fulbright mission of mutual understanding among nations. We certainly hope to support both incoming and outgoing scholarship recipients in the future."
Mann participated in pre-arrival activities in Germany with other Fulbright recipients heading for the U.S. He keeps in touch with many of them and planned to participate in other events in Washington, D.C., such as an Election Party.
Born and raised in Berlin, Mann spent seven months of his junior year at Viewpoint High School in Calabasas, outside Los Angeles. He wanted to experience the culture and language of another country, as well as U.S. high school life. Both Viewpoint and Mann's host family were a perfect fit. He still keeps in touch and the families visit each other every year.
Many Fulbright recipients have talents outside their interest in cultural exchange. For Mann, it's music. He has played classical piano since age eight, which expanded to jazz saxophone and membership in two jazz bands. He then founded his own jazz band, Quintessenz, and a saxophone quartet, Charlottenburger Saxophonquartett, with friends. The groups have played in concerts and competitions, and won several musical awards.
While at SU, Mann plans to practice music and play saxophone, in addition to the M.B.A. program. He also looks forward to playing sports and always relaying the message about the importance of cultural exchange.
Mann applied for the Fulbright award through the international office at TUB. Established in 1946, the Fulbright program operates in more than 150 countries, offering opportunities for graduate study, advanced research and teaching worldwide. It was created by Congress to increase mutual understanding between the U.S. and other countries through the exchange of persons, knowledge and skills.
SU students can apply for a Student Fulbright Scholarship the summer before their senior year to begin their foreign program following graduation. For more information contact SU's Center for International Education at 410-334-3495 or visit the Study Abroad Financial Aid Web site at www.salisbury.edu/intled/StudyAbroad/financialAid/altfinancialaidstudyabroad.asp.