Thursday, January 18, 2007
International Designer Speaks on Zen Gardens, Samurai January 30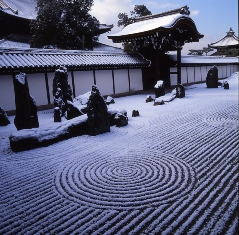 SALISBURY, MD---The tranquility of a Zen garden may seem contrasting to the finely honed and often violent skills of the ancient Japanese samurai warriors. Yet internationally known Zen garden designer and samurai expert Masaaki Ono brings both together in a uniquely cohesive way.
Ono speaks on both topics during his presentation "The Warrior's Garden: Miyamoto Musashi and his Expression of Zen, Mind and Sword" 7 p.m. Tuesday, January 30, in Holloway Hall Auditorium. The talk, demonstration and slideshow are part of SU's "Artists of Asia" Spring Cultural Events Series.
Ono's gardens epitomize the elements of Japanese garden design. Currently creating a Zen garden for the National Geographic Society in Washington, D.C., he speaks on the nuances of these types of gardens during a slide presentation. A samurai sword demonstration follows. Two assistants join Ono for the presentation. The next day, Ono creates a small, permanent indoor Zen garden in the lobby of Fulton Science Hall at 10 a.m.
Sponsored by the Office of Cultural Affairs, Ono's presentations are free and the public is invited. His talk, in Japanese, will be translated for the audience. For more information call 410-219-2872 or visit the SU Web site at www.salisbury.edu.