Wednesday, September 7, 2016
Institute for Retired Persons at SU Announces Fall Series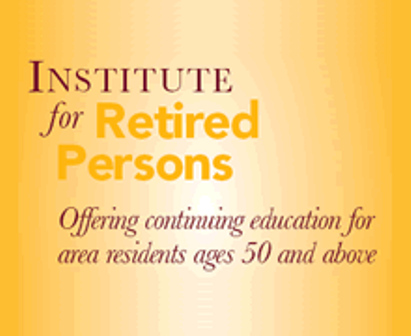 SALISBURY, MD---The Institute for Retired Persons (IRP) at Salisbury University meets at 2 p.m. Tuesdays during the semester at MAC, Inc., 909 Progress Circle. Scheduled speakers this fall include:

•September 6 – Mary Angela Baker, director of SU's Center for Extended and Lifelong Learning; and IRP Scholarship winners

•September 13 – Dennis Dicintio, Wicomico County Health Department director of environmental health: "Zika Virus and Other Mosquito-Related Health Issues"

•September 20 – Dr. Tom Goyens, SU History Department: "The Gilded Age: Issues of Inequality and Immigration"

•September 27 – John Allen: "World War II 'Snoopers' and the Secret Anti-Shipping Night War Against the Japanese"

•October 4 – Peter Bale, Sentinel Robotics Solutions CEO: "History and Use of Drones"

•October 11 – Michelle Robbins, Maryland State Department of Education Office of Child Care licensing specialist: "Homeless People in Salisbury"

•October 18 – Bus trio to the International Spy Museum, Washington, D.C. (meet at MAC, Inc.)

•October 25 – Tezich Mac, D.V.M.: "The Pacificeast Aquaculture Facility"

•November 1 – Bill Nelson, SU Environmental Studies Department: "The Appalachian Trail"

•November 8 – Katerina Ennerfelt, Macon and Toroid Industries president: "The All-Woman Skipjack Crew and Winning the Deal Island Skipjack Race of 2014"

•November 15 – Dr. Philip LeBel, Montclaire State University emeritus professor of economics: "The Dead Economists Society: Enduring Ideas That Continue to Shape Our View of the World"

•November 22 – Ernie Colburn, Salisbury Area Chamber of Commerce President and CEO: "The Mission and Vision for the Future of the Area"

•November 29 – Kelly Taylor, Assateague Island National Seashore science communicator: "Endangered Species of Assateague Island National Seashore"

•December 6 – Dr. Lisa Seldomridge, SU Nursing Department: "Richard A. Henson Medical Simulation Center at SU"



The series culminates with the institute's annual holiday luncheon on December 13 in the Worcester Room of SU's Commons.

The IRP offers continuing education and social opportunities for adults age 50 and older. For more information, including membership inquiries, visit the institute's website at www.salisbury.edu/irp.