Friday, February 1, 2008
Inaugural SU Distinguished Lecture in Dance February 21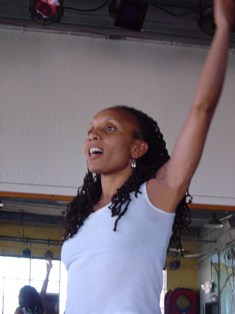 SALISBURY, MD---Great dances have long been regarded as works of art. However, the movement of dance itself is much more than that, reaching into the realms of both cultural heritage and self expression.
That's just one of the messages Dr. Charmaine Patricia Warren delivers as Salisbury University's inaugural Distinguished Lecturer in Dance 7 p.m. Thursday, February 21, in Holloway Hall Auditorium, preceding that evening's performance by Alvin Ailey American Dance Theatre. Warren speaks on "The History of Dance."
A performer, historian, consultant and dance writer, Warren is a faculty member at The Ailey School, Alvin Ailey/Fordham University, New York University and Queens College. She recently earned her Ph.D. from Howard University, where she taught for eight years.
She has taught movement and yoga classes nationally and internationally. She lectures on western dance history, the African-American tradition in American dance and Jamaican dance. After performing for many years with major New York dance companies, she joined the internationally known New York-based dance and theater company david rousseve/REALITY in 1989. She currently writes on dance performance for Dance Magazine and The Amsterdam News, among other magazines and journals.
Admission to her talk is included with tickets to that evening's Ailey performance. Tickets are free, with a limit of two per person, and are available at the Information Desk of the Guerrieri University Center beginning Monday, February 4.
Her presentation is part of a month-long focus on African-Americans' contributions to modern dance, which includes the PBS documentary series Free to Dance, screened 7 p.m. Monday, February 4, 11 and 18, in the Great Hall of Holloway Hall.
For more information call 410-219-2872 or visit the SU Web site at www.salisbury.edu.