Wednesday, December 23, 2015
Inaugural Justin M. McJilton Scholarship Honors Late SU Student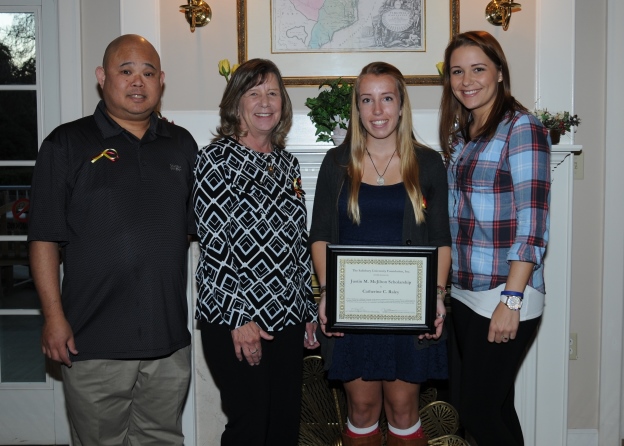 SALISBURY, MD---An active Salisbury University student with "bright blue eyes and a charming smile," Justin McJilton was only 23 when he lost his battle with leukemia in October 2009.
"Justin was a very vibrant character," said Dr. Bryan Horikami, who chairs SU's Communications Arts Department and was a mentor to McJilton. "He was very enthusiastic and just a likeable fellow."
Over the past several years, Horikami, Associate Registrar Jamie Holmes-Kriger, and others who knew McJilton have been personally contributing to and raising funds for a scholarship in his memory. Individuals who didn't even know McJilton also have assisted. "We wanted to keep his legacy and his spirit alive," Horikami said.
This fall, they finally were able to endow a $10,000 scholarship through the SU Foundation, Inc., and present the inaugural $500 award to a current student who "follows in the spirit of Justin." Selected was SU junior Catherine Raley, an exercise science/allied health major from Ridge, MD.
"It is a great honor to be the first recipient," Raley said. "From everything I have heard, Justin was a very spirited, humble and involved leader on campus. I was glad to hear from his family that my actions on and off campus also reflect his values."
Raley was chosen for her contributions in "promoting various efforts to combat cancer," especially in tribute to her mother, who has battled breast cancer. Also noted were her outstanding academic excellence and dedication to extracurricular activities.
"To me this scholarship means a lot; my mom is currently receiving radiation and is my inspiration," Raley said. "I fully support her and want to reach out to by raising awareness and promoting education on cancer."
On campus, Raley is president of the Outdoor Club and secretary of the Student United Way, and is working on ideas to coordinate events through those organizations to assist the local Women Supporting Women breast cancer support organization. "I want to promote healthy living, awareness for cancer and preventative measures while supporting those affected with cancer and fundraising to aid research and medical bills," she said.
Raley also has been an SU Admissions tour guide and peer mentor to new students. She taught children about health and wellness during a winter term in Belize. She also runs and volunteers for countless campus and area events and organizations.
M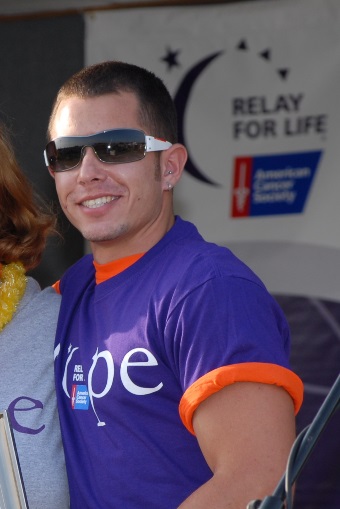 cJilton, too, was involved on campus and in the community. A two-time co-chair of SU's Relay For Life, he was an avid fundraiser for the American Cancer Society. He also supported the Believe in Tomorrow Foundation and its Children's House at John's Hopkins. The Denton, MD, native also enjoyed weightlifting, sports cars, music, family and friends. He had earned a B.S. in marketing from SU's Franklin P. Perdue School of Business and a minor in Spanish; his diploma was presented to his family at SU's Spring Commencement in 2010.
A number of fundraisers were held to support the scholarship including a 5K run. This fall, students in Paula Morris' Advertising and Promotions class raised $850 through activities including a jewelry raffle. SU students who helped included Kanyu Chow, Jesse Malaby, Katelyn Nagler, Charles Widman and Bryan Wolf.
Recipients of the McJilton Scholarship should have a 2.5 G.P.A. or higher and be SU students who have been touched by cancer.
Pictured above, from left, at a reception for the scholarship are Horikami; McJilton's mother, Carol Brechbill; Raley; and McJilton's sister, Kaylin McJilton.
For more information call 410-543-6030 or visit the SU website at www.salisbury.edu.