Monday, November 13, 2006
Horton Speaks on Landmark Book 'Bay Country' November 21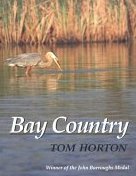 SALISBURY, MD---Author and former Baltimore Sun environmental reporter Tom Horton speaks about his landmark book Bay Country at the next session of the Delmarva Discussions Series at Salisbury University.
Horton leads the discussion on his book about the decline of the Chesapeake Bay under the pressure of a burgeoning population 7 p.m. Tuesday, November 21 in Blackwell Library.
Horton has worked as a chicken farmer, an Arabic translator and a writer. As a reporter he worked from 1972-1987 for The Sun writing articles mainly about the environment. While working for The Sun he received national awards for reporting from the Amazon and on famine from Africa and the Middle East, and received numerous regional and national awards for environmental coverage of the Chesapeake Bay.
These awards included the Scripps Howard Newspapers Meeman Award, National Wildlife Federations Communication of the Year Award, Chesapeake Bay Foundation Conservationist of the Year Award and Sierra Club David Brower Award.
Horton has written five books about the Chesapeake Bay. Bay Country was chosen by the American Library Association as one of the top 40 books published in 1987. Turning the Tide was the first comprehensive assessment of the state of the Chesapeake Bay environment and is widely used as curriculum in the Maryland and Virginia public schools and colleges.
Swanfall, written for young readers about the ecology and lifecycle of the tundra swan, won the John Burroughs Medal. After living on Smith Island for two years he wrote the book Island Out of Time, A Memoir Of Smith Island in the Chesapeake Bay in 1995. A year earlier, working with photographer David Harp, he wrote Water Way, a coffee table photo book on the Chesapeake.
Refreshments will be served. Those attending Delmarva Discussions are asked to have read the books in advance. Books are available at Blackwell Library.
The Delmarva Discussion Series at SU is sponsored by the Charles R. and Martha N. Fulton School of Liberal Arts, Edward H. Nabb Research Center for Delmarva History and Culture, and the Office of the President.
Admission is free and the public is invited. For more information call 410-219-2872 or visit the SU Web site at www.salisbury.edu.