Thursday, September 24, 2015
Homecoming and Family Weekend Scheduled October 8-11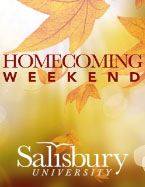 SALISBURY, MD---From reunions to fun activities for parents and students, Salisbury University's 2015 Homecoming and Family Weekend is packed with excitement.
Events begin Thursday, October 8, with the annual faculty emeriti and retired staff luncheon from noon-2 p.m. in the Wicomico Room of the Guerrieri University Center. (Admission to the luncheon is by invitation only.)
Activities continue 3 p.m. Friday, October 9, with hard hat tours of the Patricia R. Guerrieri Academic Commons construction site. Tours also are offered at 9 and 10:30 a.m. Saturday, October 10. Space is limited, and pre-registration is required.
The Maroon & Gold Club's annual golf tournament, co-sponsored by Chick-fil-A, is 10 a.m. Friday, October 9, at Nutters Crossing Golf Course. Entry fee is $65 per player, $240 per team. Pre-registration is required.
The Residence Hall Association's annual powder puff football game is 2:30 p.m. that day on Holloway Hall Lawn. From 4:30-7:30 p.m., University Dining Services presents a "Taste of the Chesapeake" dinner, featuring the band Such Fools, in the Commons. Cost is $12, $7.28 for children ages 5 and under.
That evening, the SU Athletics Hall of Fame inducts five new members during its annual banquet at 6 p.m. in the Wicomico Room of the Guerrieri University Center. They are: Jeff Bigas ('05 lacrosse), Lindsey Elliott ('04 field hockey), Stacie Gado ('97 field hockey/track and field), Dan Meehan ('03 soccer) and Melissa Webster ('04 field hockey). Admission is $30, $25 for past inductees. Pre-registration is required.
Saturday events begin with an open house at the Alumni House and Miller Alumni Garden from 9 a.m.-2 p.m. A luncheon for alumni graduating prior to 1971 is 10:30 a.m. in the Worcester Room of the Commons. The class of 1965 is honored on its 50th anniversary. Admission is $20, free for Class of '65 members, and pre-registration is required. The classes of 1930, 1935, 1940, 1945, 1950, 1955, 1960 and 1970 will be recognized, as well.
Activities continue at Sea Gull Stadium at 11 a.m. with the SU Alumni Association's annual pre-game barbecue, serving as a reunion for the classes of 1995 and 2000, as well as the Education Specialties and Biological Sciences departments, and the Men's and Women's Rugby clubs. Music is provided by Beauty for Ashes, and children's games and activities are available.
The event includes barbecue, sides and a choice of beverages, including beer sponsored by 3rd Wave Brewing Co. and Dogfish Head Craft Brewery. Admission is $15, $5 for children 10 and under. Those registering for the barbecue on the day of the event must purchase football tickets separately.
Also at 11 a.m., the Student Government Association hosts a parade in front of the stadium on Wayne Street, beginning at Avery Street and ending at Milford Street. The SGA's annual block party, with inflatables provided by the Student Organization for Activity Planning (SOAP), begins at the Intramural Fields immediately following the parade. The Sea Gulls host Rowan University (NJ) during this year's Homecoming and Family Weekend football game at 1 p.m. Admission is $5; $2 for alumni, non-SU students and children 6-12; free for children 5 and under. SU ID holders receive one ticket free.
The Student Affairs Office hosts a post-game ice cream social from 3-4:30 p.m. on Henson Hall Lawn (rain location: Perdue Hall Atrium). At 4 p.m., those returning to campus also may take a guided tour of SU's recently renovated residence halls.
The Untouchables Dance Club performs in Henson Science Hall Plaza at 4:30 p.m. as sports fans make their way back to main campus from the game. The Multicultural Student Services Office hosts a post-game alumni jazz social in the Gull's Nest of the Guerrieri University Center from 4:30-6:30 p.m., featuring Rhythm Jones.
A Homecoming step show, featuring SU's fraternities and sororities, is 7 p.m. in Holloway Hall Auditorium. Advance tickets, available at the Guerrieri University Center Information Desk beginning Tuesday, September 22, are $15, $10 for Greek organization members. Admission at the door is $20.
Homecoming and Family Weekend events end with a brunch featuring the band Slim DeNunn and the High Rollers from 11:30 a.m.-1 p.m. in the Commons. Cost is $9.63, $4.95 for children 5 and under.
Other weekend highlights include:
Friday, October 9
•6 p.m. – Spanish majors reunion, Plaza Tapatia, 1045 S. Salisbury Blvd.
Saturday, October 10
•1 p.m. – Volleyball vs. University of Mary Washington, Maggs Physical Activities Center
•2 p.m. – Men's soccer vs. Penn State University, Harrisburg
•3:30-5:30 p.m. – Acadia New Student Experience reunion, Commons, Montgomery Room (all past participants invited; those planning to attend should e-mail jecurtin@salisbury.edu to ensure they are part of the historical roster)
•5-8 p.m. – Lambda Society Rainbow Reunion, Alumni House (pre-registration required, $15, $7.50 children 12 and under)
•6-7 p.m. – Pre-concert party for SU alumni, with free appetizers and cash bar, Headquarters Live, downtown Salisbury, $5 (half-price for pre-registered alumni; walk-ups must have SU alumni benefit card). Pressing Strings concert begins at 8 p.m.
Other events taking place during Homecoming and Family Weekend include the Bobbi Biron Theatre Program's presentation of To Kill a Mockingbird, directed by Dr. T. Paul Pfeiffer, co-chair of SU's Music, Theatre and Dance Department, in the Black Box Theatre of Fulton Hall. Curtain is 8 p.m. Thursday-Saturday, 2 p.m. Sunday. Admission is $12, $9 for seniors, alumni and students. For tickets call 410-543-6228 or visit www.salisbury.edu/performingarts.
A recital featuring SU music faculty Danielle Cumming, Lee Knier and William Folger (Music, Theatre and Dance Department co-chair) is 7:30 p.m. Friday, October 9, in the Great Hall of Holloway Hall.
SU Art Galleries exhibits include "The Great American Landscape: Photographs of Ansel Adams, George Alexander Grant, Eliot Porter and the National Park Service" and the alumni exhibit "It's Fine," both at the SU Art Galleries Downtown Campus (118-120 N. Division St.), as well as "The Luminous Surface" at the University Gallery of Fulton Hall and Electronic Gallery (Teacher Education and Technology Center Room 128). For more information, including exhibit descriptions and gallery hours, visit www.salisbury.edu/universitygalleries.
Blackwell Library holds its annual book sale throughout Homecoming and Family Weekend. The SU Bookstore also is open for Sea Gull shopping.
Admission to all events is free unless otherwise noted. Special invitations are required to participate in some reunion events. For more information, or to pre-register for Homecoming events, call 410-543-6042 or visit the SU Alumni website at http://alumni.salisbury.edu.
For more information about Family Weekend events, call 410-543-6080 or visit www.salisbury.edu/parents/familyweekend.