Thursday, October 25, 2012
Holocaust Survivor Weiss Speaks at SU Nov. 8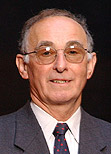 SALISBURY, MD---Martin Weiss, survivor volunteer at the U.S. Holocaust Memorial Museum, speaks about his experiences Thursday, November 8, at Salisbury University.

His lecture, "Life in the Holocaust: Memories of a Survivor," is part of the SU Center for Conflict Resolution's "One Person Can Make a Difference" series. It begins at 7 p.m. in the Great Hall of Holloway Hall.

Weiss was born in 1929 in Polana, Czechoslovakia, the son of a subsistence farmer and meat distributor. When Germany occupied the country in 1939, Hitler divided it into sections of Nazi and Hungarian control. Polana was included in the Hungarian section, which was subjected to the Nuremberg Laws.

Thousands of Jewish men, including Weiss' two brothers, were conscripted into slave labor battalions and sent to the Russian front. Though most businesses were confiscated, Weiss' father, Jacob, retained his business license and continued earning money by selling meat on the black market.

In 1944, hundreds of thousands of Hungarian Jews, including the Weisses, were arrested and deported to the Munkacs Ghetto, where they were forced to perform slave labor at a brick factory. Within the next three months, the Weisses were deported from Hungary to Auschwitz-Birkenau. Weiss, his brother Moshe, his sister Cilia, and Jacob were selected for slave labor. The rest of the family was killed upon arrival.

After a brief stay, Weiss and his father were transported to Melk, a sub-camp of the Mauthausen concentration camp in Austria, where they were forced to carve tunnels into the sides of mountains. Jacob died from exhaustion and starvation.

As the Allies advanced into Germany in spring 1945, Weiss and other inmates were marched to Gunskirchen, another Mauthausen sub-camp, where they were liberated by the U.S. Army.

He returned to what was left of his home in Czechoslovakia. There, he reunited with Cilia, who was liberated by the British at Bergen-Belsen, and his oldest brother, Mendi, who had survived the labor battalion.

After they war, the Weisses located another sister, Ellen, who had immigrated to the United States in 1939. She arranged visas for them, and they immigrated in 1946. Weiss served in the Korean War before entering the grocery business in 1955 and starting a family several years later. He began volunteering with the Holocaust Memorial Museum in 1998.

Sponsored by SU's Office of the Provost, Charles R. and Martha N. Fulton School of Liberal Arts, and Conflict Analysis and Dispute Resolution Department, admission to his talk is free and the public is invited. For more information call 410-543-6030 or visit the SU Web site at www.salisbury.edu.