Wednesday, November 15, 2017
Holloway Hall Tour Concludes 'Discover SU' Series December 14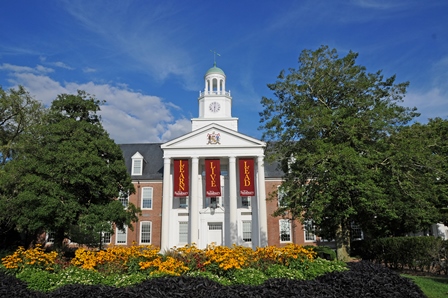 SALISBURY, MD---Salisbury University's Center for Extended and Lifelong Learning (CELL) invites community members to get to know the campus better through "Discover SU," a series of tours highlighting the University's offerings and services.
This fall's final tour is 4:30 p.m. Thursday, December 14, as guests learn about the history of Holloway Hall, with a walking presentation led by University Archivist Ian Post.
Named for SU's first principal, Dr. William Holloway, the building was the first on campus. Construction began in 1923, with the hall opening in 1925. The original structure was expanded in 1928 and 1932. Today it contains administrative and faculty offices, as well as a handful of classrooms. Throughout the years, however, it also has served as home to SU's residence and dining halls, among other facilities.
The "Discover SU" series resumes next year with a tour of SU's Commons on Thursday, January 18, led by Dining Services Director Owen Rosten.

Admission is free and the public is invited. Those planning to attend should RSVP in advance through the CELL website. For more information email Molly Riordan at mkriordan@salisbury.edu, call 410-543-6090 or visit the CELL website at www.salisbury.edu/cell.