Tuesday, August 31, 2010
High School Juniors, Seniors Invited to Apply for Science Nights at SU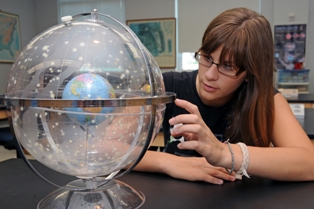 SALISBURY, MD---A tornado changed the course of Sean Smith's life.
While on a family trip in high school, the senior Salisbury University geography major from St. Leonard, MD, saw the funnel cloud in person—far enough away that it did not harm his family, but close enough that he immediately wanted to learn more about what caused the storm. This began his deep-rooted fascination with weather. Upon graduating from SU, he hopes to become a meteorologist.
While Smith's inspiration literally struck in an instant, not all science-based career choices come so easily. That's where the new program "Science Nights at SU" comes into play.
High school juniors and seniors in Wicomico and Worcester counties considering careers in the growing fields of science, technology, engineering and mathematics (STEM) may be eligible to attend the program this academic year. The free series begins Tuesday, October 5, as experts present information on research and career options in earth science. All Science Night presentations are 6:30-8 p.m. in Henson Science Hall Room 103.
"Keep an open mind," advises Jaleesa Tate, a junior SU geography major, encouraging those interested in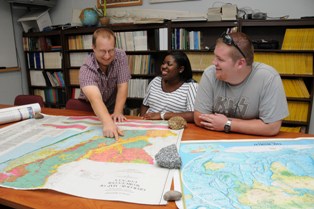 attending to consider how a science education could help them in their preferred career fields. "Even though you'll probably choose only one major in college, you can do a lot of different things with that major."
The Mobile, AL, native is studying two tracks within her major—geographic information systems and land use planning—in hopes of pursuing a master's degree and becoming a city planner.
"People think all we do is make maps," she said. "What I want to do isn't about maps—it's about people."
SU senior Julia Cunningham is not a STEM major at all, but an elementary education major who became interested in earth science after taking a particularly inspiring class at the University.
"It opened my eyes to the other classes I could take, and I got really interested in it," she said.
Though she hopes to pursue a career teaching second grade, she knows her STEM education may be beneficial in the future, especially if she later chooses to teach middle school grades, where there is a shortage of science and mathematics teachers.
Smith, Tate and Cunningham will be among the presenters at Science Nights at SU. Interested high school students must fill out an application, available online at www.salisbury.edu/henson/stem/sciencenights, and complete a 250-word essay describing their reasons for wanting to participate. Students also should provide a list of all science and mathematics classes they have taken or are currently taking.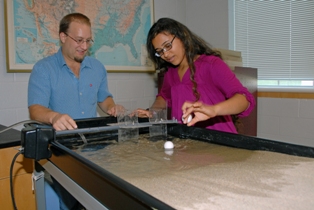 Students will be notified of their selection to attend. Applications must be signed by a parent, and each attending student must have a parent or guardian present at the event. Parents will meet with professors and SU STEM alumni for question-and-answer sessions about science majors and careers.
Forms and essays should be sent to Dr. Brent Zaprowski, Henson Science Hall Room 157N, Salisbury University, 1101 Camden Ave., Salisbury, MD 21801. Application materials are due by Friday, September 24.
Participants have the option of coming to more than one session. Those attending at least five sessions earn a $25 gift card to the SU Bookstore.
Upcoming topics for the fall semester include:
Tuesday, October 26: chemistry
Tuesday, November 16: physics
Tuesday, December 7: computer science
Spring semester topics include engineering, atmospheric science, mathematics and biology. Dates will be announced.
Science Nights are funded by a $996,303 National Science Foundation grant designed to increase the number of SU graduates in science, technology, engineering and mathematics (STEM) disciplines. The five-year grant is the largest NSF award in SU history.
For more information about Science Nights call 410-677-5308, e-mail bjzaprowski@salisbury.edu or visit the SU Web site at www.salisbury.edu.