Tuesday, November 1, 2011
Hershey Earns 2011 Perdue Leadership Award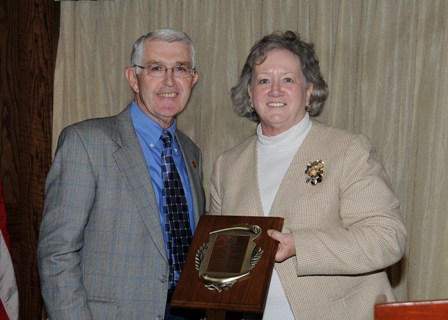 Tom Hershey receives the 2011 Perdue Leadership Award from SU Provost and Senior Vice President for Academic Affairs Diane Allen.

SALISBURY, MD---When it comes to business, W. Thomas Hershey is a leader. When it comes to philanthropy, he has been called "simply among the finest of men."

Now, he has a new title to add to his long list: Perdue Leadership Award recipient. Founded by Salisbury University's Franklin P. Perdue School of Business in 2009, the award pays tribute to area business leaders for their contributions to the University and greater community.

Hershey began his professional career working at The Daily Times and then gained a strong background in the real estate business by managing apartments, general real estate sales and home construction. He went on to become the owner of three Arby's restaurants in Salisbury and served as founding chairman of the board for Chestertown's Heron Point retirement community. He also has served on the board of Peninsula United Methodist Homes, Inc. and currently serves as vice chairman First Shore Federal Savings and Loan Association.

It is his community service efforts, however, that have touched the lives of thousands on the Delmarva Peninsula. He served as chairman of the Community Foundation of the Eastern Shore and co-chair of its Kresge endowment challenge. That effort developed into the Perdue-Kresge Challenge, raising over $12 million in new endowment funds for 19 local non-profits, including SU. During that campaign, Hershey chaired a successful campaign to benefit Wesley Theological Seminary.

Hershey has also served as president of the Mid-Delmarva Family YMCA and Salisbury-Wicomico Economic Development Corporation, vice president of the United Way of the Lower Eastern Shore and chairman of the Salisbury School. He has been a member of the Asbury United Methodist Church since 1965 and presently is leadership chairman. He served on the Peninsula Regional Medical Center capital campaign advisory committee and the SU President's Club. He also is a lifetime member of the Greater Salisbury Committee.

In addition, he has helped raise funds for Junior Achievement, Wor-Wic Community College, Del-Mar-Va Council Boy Scouts of America, Ward Museum of Wildfowl Art Foundation and Salisbury Neighborhood Housing.

An Eagle Scout, he has served at the district and council levels of the Boy Scouts of America and received its Distinguished Eagle Award, the highest honor that can be given to an adult by its national council.

He also has been honored with the Salisbury Jaycees' Distinguished Service Award and Rotary Club of Salisbury's Four-Way Test Award.

"Undoubtedly, Mr. Hershey has demonstrated exceptional leadership through advancement and service to the Delmarva community," said Marshall Hotels and Resorts Principal Dee Marshall, who nominated him for the Perdue accolade.

The name of each year's Leadership Award winner is engraved on a plaque in the Perdue School. Each honoree also receives a commemorative award.

For more information call 410-543-6030 or visit the SU Web site at www.salisbury.edu.