Thursday, October 15, 2015
'Herbert's Hippopotamus' Screening at SU Monday, October 19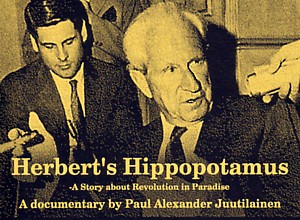 SALISBURY, MD---In anticipation of the International Herbert Marcuse Society's biennial conference at Salisbury University next month, the planning committee screens the documentary Herbert's Hippopotamus 6 p.m. Monday, October 19.

Shown in Fulton Hall Room 111, the film tells the story of the turbulent life, writings and activism of Marcuse, a German-American philosopher, sociologist and political theorist, associated with the New Left and student counterculture movements in Germany, France and the U.S.

Criticizing capitalism, modern technology and entertainment culture as new forms of social control, Marcuse's Marxist scholarship inspired many radical intellectuals and political activists in the 1960s and '70s.

Admission is free and the public is invited. For more information email Dr. Sarah Surak at smsurak@salisbury.edu or visit the SU website at www.salisbury.edu.

For more information about the Marcuse Society conference, visit the event website at www.salisbury.edu/marcuse.