Friday, July 6, 2012
Heat Advisory in Effect; Take Precautions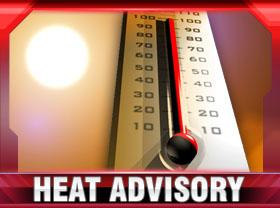 SALISBURY, MD---A heat advisory is in effect for Wicomico County and much of Maryland, with temperatures expected to remain in the 100s this weekend. Residents are encouraged to remain indoors in air conditioning, avoid outside activities, stay hydrated and check on neighbors.
For those without air conditioning, public cooling stations have been opened at the Wicomico Youth & Civic Center and, for those over age 50, the Lucille Tull Dulany Senior Center, operated by MAC, Inc. of Wicomico County. Cooling station hours at the civic center are 10 a.m.-8 p.m. daily through Sunday. Station hours at the senior center are 10 a.m.-6 p.m. Saturday. Residents visiting the cooling centers should bring their own food, beverages and medications. Bottled water will be available. No pets will be permitted. Those needing transportation should contact Shore Transit at 443-260-2300.
Health officials also are urging residents to know the signs of heat exhaustion and stroke. Heat rashes and muscle cramping often are the first signs of heat-related illnesses. Heat exhaustion symptoms include heavy sweating, weakness, dizziness or fainting, nausea or vomiting, and shortness of breath or trouble breathing. Those suffering from heat exhaustion should move to a cooler location, lie down, loosen clothing and sip small amounts of water. If vomiting occurs, victims should seek immediate medical attention.
Signs of heat stroke include a body temperature above 103 degrees; hot, red, dry or moist skin; rapid and strong pulse; possible unconsciousness; and confusion or disorientation. Those witnessing someone with heat stroke symptoms should call 911 and move the person to a cooler environment, further reducing body temperature with cool cloths or a bath. They should not consume water or other fluids.
A special phone number, 211, has been established in Maryland for residents seeking information and referrals for non-emergency heat-related concerns.
For more information visit the Wicomico County Health Department Web site at www.wicomicohealth.org.