Thursday, November 17, 2011
Healthy U of Delmarva Offers 'Six Weeks to Success' Program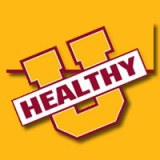 SALISBURY, MD---On average, Americans gain five pounds during the holiday season.

To help prevent this, Healthy U of Delmarva at Salisbury University is offering a "Six Weeks to Success" Program.

To join, stop by the Healthy U Office at 103 Power Street in Salisbury before Friday, November 18.

.: Related Sites :.

.: Related News :.

Participants will step on a scale, record their weight and receive helpful information to stay on track. After the holidays, they will come back between Monday, January 2, and Friday, January 6, to record a post-weight.

"If you maintain or lose weight...SUCCESS!" said Amy Waters, program coordinator. "We hope that many people get involved with this program not only for the awesome prizes, but to also help themselves toward becoming healthy."

For more information call 410-742-9202.