Friday, October 28, 2011
'Haunted Eastern Shore' Author Reads at Nabb Research Center October 31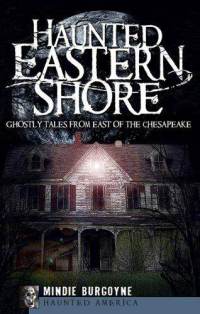 SALISBURY, MD---Author Mindie Burgoyne delivers Halloween thrills, reading from her book Haunted Eastern Shore: Ghostly Tales from East of the Chesapeake 7 p.m. Monday, October 31.

Her presentation is at Salisbury University's Edward H. Nabb Research Center for Delmarva History and Culture, 190 Wayne Street.

Stories include the "Cosden Murder Farm," the legend of Patty Cannon, and tales of ghostly figures such as brides and smugglers from throughout the region, emerging from the mists of time.

Burgoyne has an interest in mystical places, and the book has given her an opportunity to share this with readers. She has spent time scouting the haunted sites throughout the Eastern Shore. Published in 2009, the first printing sold out in six weeks. Now in its third printing, it remains a bestseller for History Press.

Admission is free and the public is invited. For reservations call 410-543-6312. For more information visit the Nabb Research Center Web site at http://nabbhistory.salisbury.edu.