Friday, November 18, 2011
Hatley Speaks on Kumano Kodo Pilgrimage Route Monday, November 28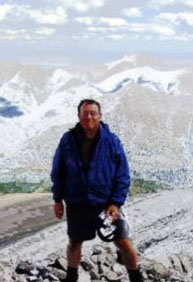 SALISBURY, MD---Dr. James Hatley of Salisbury University's Philosophy Department speaks on "Shinto Shrines and Buddhist Temples on the Kumano Kodo Pilgrimage Route: First-Hand Encounters" 7 p.m. Monday, November 28, in the Great Hall of Holloway Hall.

His talk is part of SU's Distinguished Faculty Lecture Series. This semester's theme is "Fusion."

Those who walk the Kumano Kodo route enter into a spiritual landscape embodying the fusion of two religious traditions: Buddhism and Shintoism. Hatley walked the route with Dr. Kumi Kato, environmentalist and professor at Japan's Wakayama University, in 2010.

Sponsored by the Office of Cultural Affairs, admission is free and the public is invited. For information call 410-543-6271 or visit the SU Web site at www.salisbury.edu.