Thursday, October 11, 2007
Hannas Create $100,000 Scholarship for SU Political Science Interns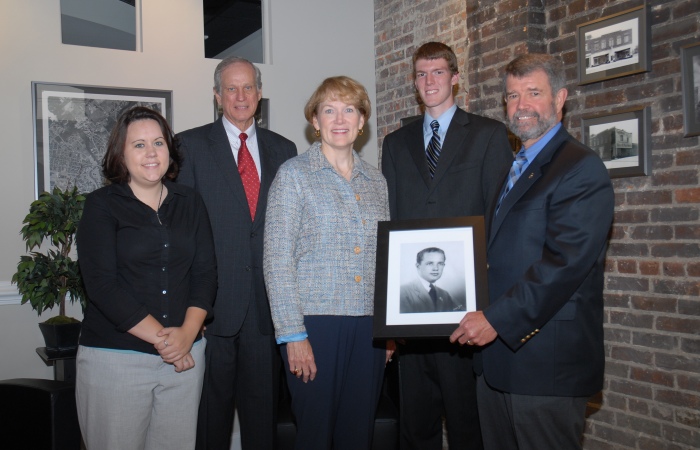 For Salisbury University students interested in politics, interning in Maryland's government just got a little easier thanks to a $100,000 scholarship established by Henry H. Hanna, III and Dara Hanna, his wife. Named the Henry H. "Buddy" Hanna Memorial Award, the scholarship honors Hanna's father, a community activist and long-time legislator from the Eastern Shore. Celebrating the scholarship's creation are (from left) junior Ashley Heffernan, Dr. Harry Basehart of SU's Political Science Department, Dara Hanna, senior Michael Hawkins and Henry Hanna, who holds a photograph of his father.
SALISBURY, MD---As a child, Henry Hanna remembers traveling from the Eastern Shore to Annapolis with his father, "Buddy," an enthusiastic community leader and legislator from Wicomico County. He vividly recalls the inside of the Maryland House of Delegates chamber, as well as the camaraderie that existed between his father and other local politicians.
Hanna credits those experiences, and his father, for inspiring his interest in government and politics as an undergraduate, and his long time passion for serving the community.
A former chair of the Salisbury University Foundation board, Henry H. Hanna, III and his wife, Dara, are establishing a $100,000 scholarship fund at SU for legislative interns working in the Maryland General Assembly. Named in honor of Hanna's father, who passed away last summer, they hope the Henry H. "Buddy" Hanna Memorial Award will inspire future generations of Salisbury University students to find the same passion for politics and community affairs.
"My father would truly appreciate that these Salisbury University students are enthusiastic about getting involved in public service and making a change," Hanna said.
"The generosity of Henry and Dara Hanna will allow more of our students to experience the excitement of interning in the Maryland General Assembly and observing first-hand how policy is made," said Dr. Harry Basehart of SU's Political Science Department. "It is truly a unique and valuable experience for our students."
"This scholarship is one of the many gifts the Hannas have shared with Salisbury University," said SU President Janet Dudley-Eshbach. "They have been great friends of this campus and we truly appreciate their involvement – Dara as a former faculty member and as co-chair of our 75th Anniversary Gala, and Henry as a 20-year member the SU Foundation board. I think Buddy Hanna would be proud of the contributions his son and daughter-in-law have made to our community, especially to students, through this scholarship."
A longtime resident of Salisbury, Buddy Hanna was born in 1921 and attended Mrs. Herald's School on North Division Street and the Upton Street School. After serving in Europe during World War II, he returned to the region and began his long career as a local entrepreneur and community leader. Over the years, his numerous business ventures included a gas station, an insurance agency (now Hanna, Kremer & Tilghman), Hanna Real Estate and a bus service from Salisbury to Delmar, Crisfield and Ocean City. Later, he started Culligan Water Systems Company, built the Surfside 8 Motel in Ocean City and purchased the Marina Deck Restaurant in Ocean City with his son, Frank.
But the real passion for Buddy Hanna, and now his son Henry, was community involvement. A co-founder of the Salisbury Jaycees, Buddy Hanna's political career began when he was still in his 20s with his election to the Salisbury City Council. He served three terms in the Maryland House of Delegates, debating issues of school desegregation, growth and other topics like the state budget and sales tax which still plague politicians.
"My father and the other politicians really knew each other personally, and even though they may have had differences, there was not partisanship like there is today," Hanna said. Instead of a split between party lines, he remembers a distinct division between those who represented the interests of the rural Eastern Shore and the state's more urban regions.
For Salisbury University students interested in politics, the scholarship is a great opportunity, said SU senior Michael Hawkins, who is a legislative intern this year. Former intern Ashley Heffernan, a junior, also sees the value – her work for legislators in Annapolis has led to a job there.
Awarded to SU juniors and seniors with a minimum 3.0 GPA, Hanna said the scholarship will especially help students from Salisbury and the Eastern Shore, who face the added expenses of travel and living arrangements in order to apply and successfully take part in legislative internships. Six scholarships, ranging from $500 to $2,000, will be awarded.
"We are happy to make this investment that will benefit future Salisbury University students," said Dara Hanna, who taught in SU's Nursing Department.
A former chair of the SU Foundation board, Henry Hanna first got involved as a way to give back to the community. He also was SU's representative to the Community Foundation of the Eastern Shore's Perdue-Kresge Challenge, making possible a $1.6 million endowment account with the Community Foundation. He continues to serve as chair of the University's $30 million Capital Campaign 2012.
A graduate of Wicomico County High School, Hanna earned degrees from the University of Virginia and Southern Illinois University. After taking his first job as a librarian and cheerleading coach at Mardela Springs High School, he went on to become a restaurant owner and a developer. With more than 35 years of brokerage experience, Hanna is currently senior advisor for Sperry Van Ness—Miller Commercial Real Estate in Salisbury. In addition, he is chair-elect of the SU Real Estate Foundation, for which he provides expertise and advice on real estate matters. In the community, he is past president of Salisbury-Wicomico Economic Development, Inc. (SWED) and was a Mercantile Peninsula Bank board member for 20 years.
For more information call 410-543-6030 or visit the SU web site at www.salisbury.edu.