Friday, November 30, 2007
Habitat for Humanity Benefits from Sea Gull Century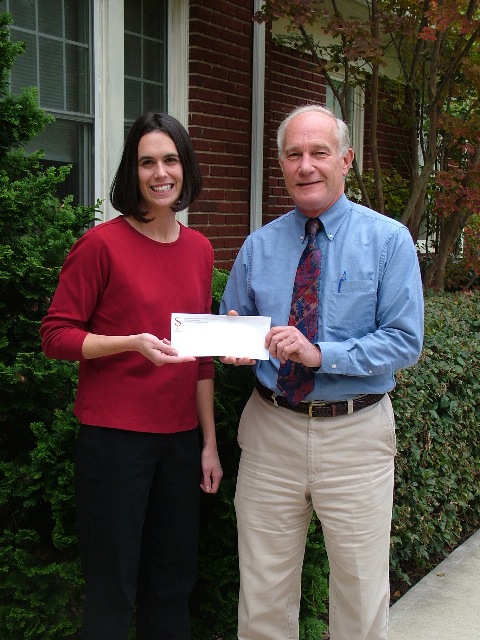 SALISBURY, MD---Money raised by this year's Sea Gull Century at Salisbury University not only helped provide shelter for Wicomico County residents, it also aided families in the West African country of Ghana.
When Barry King, executive director of Habitat for Humanity of Wicomico County, received the $6,226 donation, he thanked SU's Century organizers, saying it would help the local Habitat chapter finish its 49th home in the county, and build others overseas.
"Ten percent of undesignated donations received by Habitat go toward new homes in Ghana," King said. "Our affiliate alone has financed some 50 homes there."
Every October, approximately 6,000 cyclists from across the United States and beyond ride in SU's popular 100-mile or 100 kilometer century, many for charity.
In total, the ride has provided nearly $110,000 for the local chapter of Habitat for Humanity during the past 13 years. The Wicomico organization, which enlists volunteers to help construct houses for homeless families, finished four this year.
Several were constructed with the help of SU students and the campus chapter of Habitat. The field hockey team and members of the Alpha Sigma Tau sorority assisted with one house built entirely by women for a local mother and her daughter. Members of the Pi Lambda Phi fraternity helped construct another. Funding for such projects has become even more crucial in recent years, as building costs continue to skyrocket, King said.
Each year, Sea Gull Century proceeds benefit dozens of non-profit organizations in the local community. Others receiving contributions this year included the Ocean City Lioness Club, Powellville Fire Department Ladies' Auxiliary, Helping Hands of Beaver Dam, the League of American Bicyclists and University of Maryland Eastern Shore. Healthy U, the American Red Cross and the Leukemia and Lymphoma Society's Team in Training also benefitted. In addition, the Century provides funding for SU campus enhancements and student organizations.
"As the Century approaches its 20th year, we are glad to be able to partner with more and more community organizations," said Amy Waters, Century coordinator.
For more information call 410-543-6030 or visit the SU Web site at www.salisbury.edu.