Friday, October 3, 2014
Guerrieri Center Art Space Presents Works by Kelcie Mack October 2-30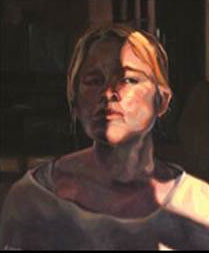 SALISBURY, MD---The Guerrieri University Center Art Space hosts the exhibit "Corporeal: A Study in Human Form" by Salisbury University junior B.F.A. major Kelcie Mack, October 2-30.

Mack, from Spring Heights, NJ, is a member of SU's Bellavance Honors Program, the Phi Eta Sigma freshman honor society and the Club Field Hockey team. After earning her degree from SU, she hopes to attend graduate school and work for a museum or gallery while still producing her own art.

"Through my work, I want to study and recognize the human figure as more than just a body," she said. "Each of us is composed of flesh and tissue that covers each mountain and valley of our form, creating a unique landscape. This landscape is what I hope to express to the viewer through my brushstrokes and the angle at which the figure is shown.



"It is common for humans to dismiss the body and only see what we think is wrong with it or take for granted the intricate composition that allows us all to continue living. I want to free the figure from any associations of what it does for us, and allow it to be seen as the beautiful collection of flesh and form that it is.

"In the future, I hope to work with these obscure angles to further detach the body from the way it is commonly perceived. I would like to work with larger canvases that will allow me more space to play with the idea of the body as landscape and explore more complex compositions. While I have a strong direction, I anticipate my style and concepts to change as I grow as an artist, and I look forward to where my work and interests take me."

The Art Space is located in the Guerrieri Center's second-floor concourse. Admission is free and the public is invited. For more information call 410-543-6247 or visit the Art Space website at http://www.salisbury.edu/guc/artspace.