Monday, November 1, 2010
Green Floor Students 'Live and Learn' in Geothermal Building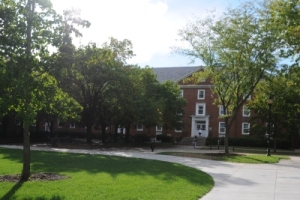 SALISBURY, MD---Salisbury University is using the Earth's natural thermal energy to heat and cool its residence halls. In the process, students are engaged in a true "living learning" experience—and the campus is saving money.
As part of a $6 million renovation for the 46-year-old Manokin Residence Hall, SU recently installed its first geothermal heating and cooling system. Among those who reside in the facility are first-year students in a Living Learning Community dedicated to sustainability. Dubbed the "Green Floor," they also take classes there.
"We take advantage of educational opportunities and integrate learning in everything we do on this campus—that's one of the things that sets SU apart," said Dr. Ellen Neufeldt, vice president of student affairs. "We aren't just making our buildings sustainable; we are making sure our students understand 'how' and 'why'."
Among the first campuses in the University System of Maryland to install geothermal, SU designed the system with Easton-based Gipe Associates. Project manager Adam Kegan recently taught the eco-minded students about the way it functions.
The process is relatively simple: 90 wells were drilled 300 feet below the surface of the Holloway Hall parking lot. They were connected by heat exchangers to a geothermal pump system inside Manokin. In the summer, heat is sent into the ground to cool the facility, and in the winter, it's drawn from the ground for warmth.
Kegan tried to debunk the myth that energy conserving measures, like geothermal, cost more. He said it's important to evaluate the "real" cost, taking into consideration the initial price, as well as operating and maintenance expenses.
"One of the most interesting things about the residence halls at Salisbury is that we have an opportunity to compare geothermal versus a conventional system," he said.
When SU's Pocomoke Hall was renovated last fall—the first of the four traditional buildings to be updated—planners kept its relatively new HVAC system. Since it's a mirror image of Manokin at 21,735 square feet, that decision set up the perfect experiment.
"We've never had two buildings that were so similar in size, orientation, usage and occupancy to evaluate," Kegan said. "This will give us real world data on the performance of the two different systems."
In just the first month, SU saw a significant savings in energy costs in Manokin, as compared to Pocomoke. This is due mainly to reduced electricity costs, since electricity is only used to collect and deliver heat, not to produce it. Also eliminated is the expense of natural gas to heat hot water. The geothermal system is set up to divert some heat directly to hot water tanks.
"When you project out what we are going to save, it really adds up," said Dave Gutoskey, SU's Housing and Residence Life director. "It's unbelievable to be able to use the earth to heat and cool the building so efficiently."
Wicomico Hall, which re-opens in January, and Nanticoke Hall, which is being renovated next spring, will also feature geothermal systems. According to Gutoskey, Nanticoke may even have roof-top solar panels.
Geothermal is not the only "green" element of Manokin Hall. It also features low-flow fixtures, and is striving for LEED Gold certification from the U.S. Green Building Council.
"I am excited because we are lessening our carbon footprint," said freshman Matthew Mignosa, who wanted to live on the Green Floor so he could learn about the environment, while protecting it.
Established in 2007, the Green Floor is one of eight Living-Learning Communities at SU. Brand new is a floor for art majors; a community for students studying STEM fields was added last fall.
Environmental Studies Program Director Michael Lewis is the Green Floor faculty advisor and teaches the classes they take together: history and earth literacy. Throughout the semester, they've explored some of the natural landscapes of the Eastern Shore, in addition to the tour of their own "green" home.
"It was cool for them to hear about the innovations that went into the building design and then walk through the mechanical rooms to understand how the physical systems are keeping them comfortable AND saving energy," he said.
In addition to using clean, sustainable, renewable energy, other added benefits are: It's relatively quiet. It has a small equipment footprint, freeing up mechanical space. It's also easy, and less expensive, to drill wells in sandy Eastern Shore soil.
"I'm glad the University is undertaking more 'green' initiatives," said Green Floor resident Amanda Stone. "We only get one planet, and projects like geothermal heating and cooling help to cut back on our environmental impact."
For more information, call 410-543-6030 or visit the SU Sustainability Web site at www.salisbury.edu/president/sustainabilityinitiatives.