Wednesday, March 30, 2011
Green Earth Book Awards Honor Authors, Illustrators During SU Children's Literature Festival April 5-6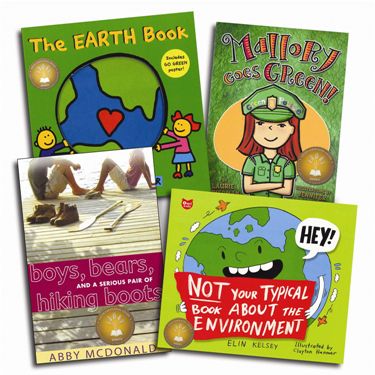 SALISBURY, MD---Authors and illustrators, including winners of the 2011 Green Earth Book Award, visit Salisbury University during its annual Children's and Young Adult Literature Festival April 5-6.
The awards are presented at 6 p.m. Tuesday, April 5, in Holloway Hall Auditorium. Writer and illustrator Henry Cole also delivers a keynote lecture. He is best known for his work on the popular Katy Duck series, as well as Oink, Shiver Me Letters and On Meadowview Street, a past Green Earth honor book.
At 7 p.m. that evening, SU hosts a reception with Green Earth Book Award winners in the Holloway Hall Social Room. Given annually by the Newton Marasco Foundation, a Virginia-based environmental charity, the prize is the nation's first to honor environmental stewardship in literature for children and young adults.
This year's recipients are: The Earth Book, a New York Times bestseller by Todd Parr (picture book); Not Your Typical Book About the Environment by Elin Kelsey and illustrator Clayton Hanmer (nonfiction); Mallory Goes Green by Laurie B. Friedman and illustrator Jennifer Kalis (children's fiction); and Boys, Bears and a Serious Pair of Hiking Boots by Abby McDonald (young adult fiction).
On Wednesday, April 6, SU offers a series of talks and book signings in the Teacher Education and Technology Center Room 226. A 9 a.m. nonfiction panel features Kelsey along with science writer Melissa Stewart, author of the 2011 honor book A Place for Frogs, and Sneed Collard, author of the 2007 winner Flashpoint.
At 10 a.m., McDonald and Collard speak, along with Jen Cullerton Johnson, who authored another honor book, Seeds Of Change: Planting a Path to Peace. An 11 a.m. panel spotlights Parr, along with scratchboard illustrator Sonia Lynn Sadler, who collaborated on Seeds Of Change, and photographer Shelley Rotner, who contributed to the honor book Garbage Helps Our Garden Grow: A Compost Story.
On Friday, April 8, the exhibit "Literature, Art and the Environment in Books for Young Readers" opens at the Ward Museum of Wildfowl Art (909 S. Schumaker Drive). Featured is art by Cole, Parr and Sadler, as well as photographer Nic Bishop, artist Higgins Bond, and illustrators Jason Chin and Lynne Cherry, among others. Some of the works will be previewed at the April 5 reception.
Admission to all events is free and the public is invited.
For information call 410-543-6030 or visit the SU Web site at http://faculty.salisbury.edu/~elbond/childlitfestival.html.