Monday, November 10, 2008
Grammy Winner Joanne Shenandoah Returns to SU November 18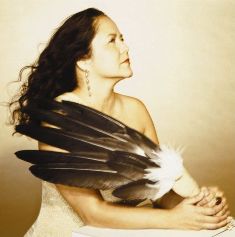 SALISBURY, MD---When the Associated Press called Joanne Shenandoah "the most critically acclaimed Native American singer of her time," it had plenty of material to back the claim. Critics from Billboard to USA Today have lauded the Grammy-winning artist.
Delmarva audiences have the opportunity to hear first-hand why critics are raving 7 p.m. Tuesday, November 18, in Holloway Hall Auditorium as Shenandoah returns to Salisbury University for the first time since 2004.
"Our music is healing, eternal and earth conscious," said Shenandoah, who has released 13 recordings, many on the SilverWave label. "Our songs celebrate our survival and have a deep spiritual essence which will resonate around a world which needs Native music."
A Wolf Clan member of the Iroquois Confederacy—Oneida Nation, Shenandoah writes her own material, bringing it to life with her striking voice and popularizing ancient songs of the Iroquois using a blend of traditional and contemporary instrumentation.
"Believe me, this woman has power," says Global Rhythm Magazine. "You can hear it, feel it in her voice." "Shenandoah actually has a deeper, more powerful voice than the Irish thrush Enya," writes John Diliberto of Amazon.com. USA Today calls her "arguably the best of all" Native American musicians.
Shenandoah has appeared on stage at the White House, Kennedy Center and Woodstock '94. She has performed at three of the past four presidential inaugurations. In 1995, she opened Earth Day on the National Mall. She also co-stared in the PBS special Songs of the Spirit. In 2002, she received the Native American Music Award (NAMA) for Native Artist of the Year. In 2003, she earned the NAMA for best compilation recording.
Sponsored by the Office of Cultural Affairs, her performance is free and the public is invited. This event is made possible in part by a grant from the Salisbury Wicomico Arts Council, awarded by the Maryland State Arts Council and the National Endowment for the Arts.
For more information call 410-219-2872 or visit the SU Web site at www.salisbury.edu.