Thursday, October 17, 2013
Gimme Five Youth Days Scheduled Friday-Saturday, October 25-26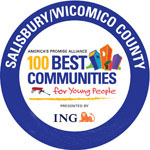 SALISBURY, MD---Salisbury's Promise Alliance, Pinehurst Elementary School's Parent-Teacher Association and the Salisbury Lions Clubs host the ninth annual "Gimme Five Youth Days" 5:30-7:30 p.m. Friday, October 25, at Pinehurst Elementary School and 10 a.m.-1 p.m. Saturday, October 26, at Stop the Violence, 507 Calloway Street.
"Gimme Five" is designed to provide opportunities for children to learn the five promises of the Salisbury's Promise Alliance — caring adults, safe places, healthy starts, effective education and opportunities to help others — while having fun in the process.
Highlights include vendors representing the five promises, free food, games, crafts such as pumpkin painting and live entertainment. This year's affiliated service project is designed to support Meals on Wheels, Hope and Life Outreach (HALO) Ministries and the Maryland Food Bank.
Admission is free and the public is invited. For more information contact Dr. George Whitehead at giwhitehead@salisbury.edu or Dave Harris at iharris@wcboe.org.