Friday, September 7, 2007
Gibson, Truitt Earn 2007 USM Regents Staff Awards
SALISBURY, MD---When it comes to university officials who have the most impact on students' lives, many picture the stereotypical professor in a tweed jacket with leather patches.
Most who know Sam Gibson and Debra Truitt, however, can attest they are anything but stereotypical college officials. For their contributions to SU and its students, Gibson, a graphic designer in SU's Publications Office, and Truitt, program management specialist in the Psychology Department, received the prestigious University System of Maryland Board of Regents' Staff Award for 2007.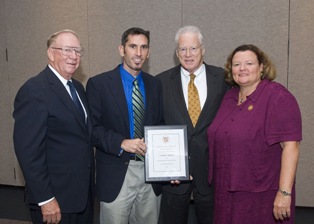 From left: USM Board of Regents Chair Clifford M. Kendall, Sam Gibson, USM Chancellor William "Brit" Kirwan and SU President Janet Dudley-Eshbach.
Gibson, who earned the award for extraordinary public service to the university and greater community, is an SU alumnus who returned to work at his Alma Mater in 2000. In addition to his duties in the Publications Office, he serves as an advisor to the Outdoor and Surf clubs, assists with the Bike Club, has lead rafting trips through the New Student Experience Program and serves as a lecturer in outdoor education.
Outside SU, he is vice president of the Wicomico Environmental Trust and helped organize the local environmental organization Stop Overflowing Sewers (SOS). He also has volunteered his graphic design services for community organizations including Beyond the Limits, Camp Odyssey, the Red River Gorge Climbing Coalition, the Tim Kennard Fun Run and the Chesapeake Bay Foundation.
"Sam's passion for public service is expansive," said Sue Eagle, SU director of marketing and public relations. "He is a true professional who works tirelessly to improve the environment, exercises creative problem solving in every team endeavor both on and off campus, sets a great example for everyone from students to community groups and is an outstanding representative for the University at every activity he's involved in."
"Sam Gibson has shared his talent and interests to the benefit of others," said SU President Janet Dudley-Eshbach. "His delight in sharing the outdoors with young people is genuine; his concerns for the environment sincere. I am proud that Sam is an alumnus of Salisbury University and pleased that he is now a professional on our staff."
Gibson said while he was humbled by the award, he hoped it would raise awareness of the good they could do through volunteerism: "If people see this as an example of good, I'd like them to follow that example, give back to the community and give back to the students."
From left: USM Board of Regents Chair Clifford M. Kendall, SU President Janet Dudley-Eshbach, Debra Truitt and USM Chancellor William "Brit" Kirwan.
Truitt, who earned the award for outstanding service to students, worked in the SU English Department before joining the Psychology Department in 2002 as the department moved into a new building. Even in those early days, she demonstrated her willingness to go well beyond her job description to accomplish what was needed for the move, said Dr. Ellyn Sheffield, who nominated her for the honor.
Since then, Truitt has taken on additional duties including assigning all new majors and minors to faculty advisors and even advising some students herself in the selection of courses. She works closely in planning course schedules and was integral in moving the department's student evaluation process online, making the task more convenient for students. In addition, she oversees the department's budget, developing a separate accounting system that keeps track of its available financial resources in real time.
Outside the Psychology Department, Truitt has served on SU's Health and Wellness Committee and SU product advisory group. She also served as a trip leader in the New Student Experience Program and a facilitator for the University's New Student Reader Program. In addition, she serves as the assistant editor for the Eastern Shore Institute for the Advancement of Thinking's newsletter, Thinking.
"Personally, Debra is one of the most enthusiastic and pleasant people I have had the privilege of working with," said Dr. Natalie Hopson, chair of the Psychology Department. "She does those little extra things that make working at Salisbury University a pleasure."
"Debra Truitt consistently goes beyond even the high standards that I have come to expect of SU staff," said Dudley-Eshbach. "She is outstanding in her dedication to her department and to this institution and is most deserving of the acknowledgement of excellence that the Board of Regents' Staff Award signifies."
Truitt said ultimately, she received the award for doing what she should: "You're part of the team. You share your experience and talents with the people around you and it just creates a better life for everyone, including yourself. Our collective goal at SU is to make the best better. This statement serves as my mantra."
For more information call 410-543-6030 or visit the SU Web site at www.salisbury.edu.