Wednesday, March 26, 2014
Gerdan Presents 'Kaleidoscope of World Music' at SU Thursday, April 3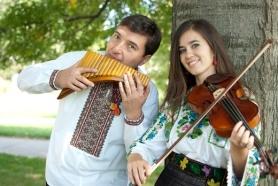 SALISBURY, MD---Contrasting musical styles in the musical traditions of Eastern Europe are the centerpiece of "Kaleidoscope of World Music," a concert presented by Gerdan 7 p.m. Thursday, April 3, in Salisbury University's Holloway Hall Auditorium.

Comprised of Drs. Andrei Pidkivka (Ukrainian folk flute), Solomia Gorokhivska (violin) and Richard Miller (classical guitar), Gerdan brings together musicians who share a collaborative vision. Their repertoire includes traditional songs such as "Roxolana" and "Annichka," as well as original arrangements of classical compositions by Dvoák, Gershwin and others.

Prior to the concert, University Dining Services hosts a Ukraine dinner, part of SU's International Dinner Series, from 4:30-7:30 p.m. in the Commons. The menu includes chicken Kiev, cabbage rolls, Ukrainian goulash, hot buttered noodles, kasha with onions and mushrooms, pierogies, baked cauliflower, black bread, rye bread, Ukrainian cheese cake, apple-filled cookie-crust pastries and Russian tea cakes. Cost is $11.53, $7 for children ages 5 and under.

Sponsored by World Artists Experiences, Inc., and the Cultural Affairs Office, admission to the performance is free and the public is invited. For more information call 410-543-6271 or visit the SU website at www.salisbury.edu.