Friday, February 12, 2016
Fulbright-Hays Participants Recount Experiences in Ghana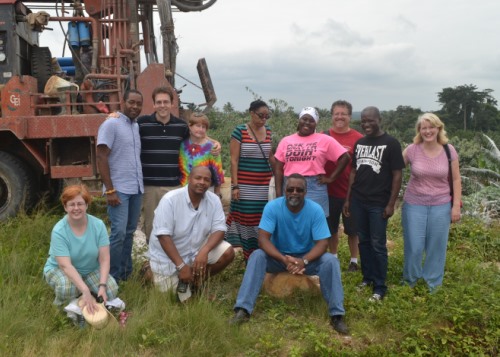 SALISBURY, MD---For the 11 educators (and one student) from Salisbury University and Wicomico schools, the highlight of traveling to West Africa on a Fulbright-Hays international education grant was installing a well for a school and village that had no running water.

"The Mate Masie initiative, SU's Fulbright-Hays funded program in Ghana was an unqualified success," said Dr. James King of SU's English Department, who led the group. "The well project will provide the village of Amanokrom fresh drinking water for the next 100 years, while SU faculty, as well as educators from Salisbury Middle and the Salisbury School, made great strides toward establishing meaningful relationships with educators at Amanokrom Presbyterian Junior Secondary School and the nearby University of Ghana at Legon." Return trips are being planned to continue the work the initiative started, he added.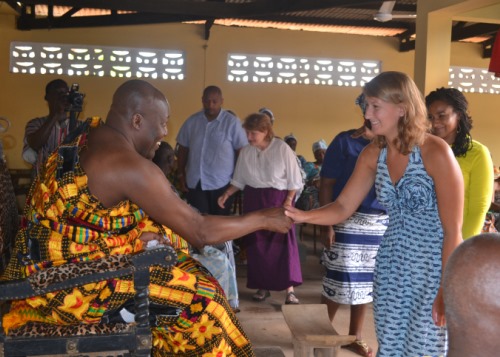 During the four-week experience, the group explored Ghana's rich culture through sightseeing, meeting prominent Ghanaians and spending time at educational institutions. Their goal was to see how modern ways of life mesh and intersect with traditional tribal customs; mate masie, King explained, is a word from Ghana's Akan tribe that means "to go back and get what you forgot" or "I have heard and I have kept it."

They learned weaving at the Kumasi Craft Centers, visited the rainforest in Kakum National Park, and witnessed the beginning of Odwira, a festival celebrated by the chiefs and people of the Fanteakwa region. They explored historic sites including Assin Manso, where slaves from Northern Ghana had their "last bath" in a river before being sent to ports on the coast, as well as the Elmina and Cape Coast castles.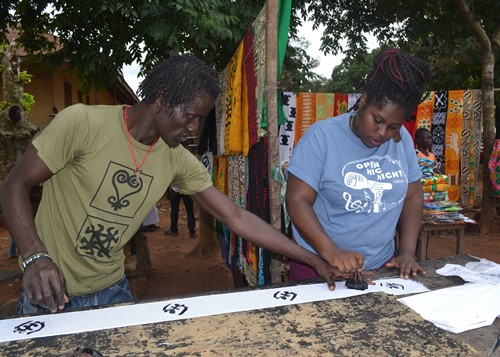 For Amanda Ampofo-Williams, a senior community health major from Burtonsville, MD, these sites gave particular meaning to the Ghanaian idea of "going back to your roots." Her parents are from Ghana and she briefly lived there as a child.

"I wanted to be part of the project because I see the improvement of development in Ghana and I want to be a part of making a positive difference," she said.

Another highlight was hearing lectures at the University of Ghana in political science, religion, sociology and "Twi" (the native dialect). The group visited the Kwame Nkrumah University of Science and Technology, the University of Cape Coast and the University of Education, Winneba, as well as Aburi Senior High School. Williams said she interviewed a 102-year-old queen mother of Amanokrom village.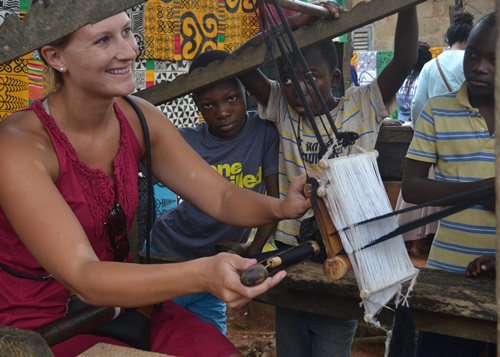 Ultimately, the teachers and professors hoped to make cross-curricular connections to enrich their classes at the K-12 and collegiate levels with details related to West African culture and themes.

Dr. Diallo Sessoms of SU's Teacher Education Department, who spent several days observing students at the Amanokrom school, was moved by the topic of a sermon they heard while attending a church service to "face opposition with joy."

"The phrase is apropos with respect to how many Ghanaians deal with life," he said. "It was relevant to students in school as they seemed as content … even though the conditions of the school are probably worse than the poorest schools in the U.S."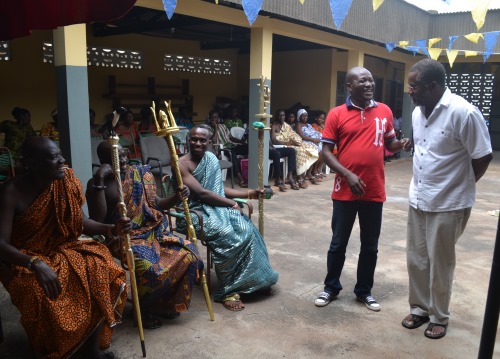 Dr. Lincoln Gibbs, chair of SU's Health and Sport Sciences Department, said he found a landscape of hope, laughter and faith in Ghana. He explained: "I quickly learned that your greatest worries are not the ones that are in front of you, but the ones you choose to see. Despite all odds, the villagers chose to celebrate life before their sorrows. Those teachings will remain with me forever."

Professionally, he said, the experience expanded his understanding of global health, including disparities, and led him to further appreciate grassroots public health advocacy. He hopes to use perspectives gained to create a global health seminar course at SU and to enhance his community health courses with information on these topics.

The other SU participants were Drs. Gina Bloodworth of Geography and Geosciences, Victoria Venable of Social Work, and Jeanne Whitney and Joseph Venosa of History, along with Kimberly Clark-Shaw of the Seidel School.

The cohort also included four from Salisbury Middle and the Salisbury School.

For more information, call 410-543-6030 or visit the SU website at www.salisbury.edu.