Monday, February 12, 2018
'From Water' Exhibit at SU Feb. 12-Mar. 15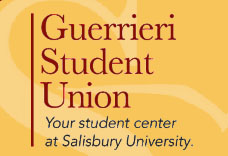 SALISBURY, MD---The Guerrieri Student Union Art Space hosts the exhibit "From Water" by Salisbury University senior art major Reeves Dark from February 12-March 15.
Dark, from Ocean City, MD, has exhibited at and received multiple awards from local galleries. Studying under painters Jinchul Kim of SU's Art Department and Patrick Henry, he works as a graphic designer while selling his paintings in Ocean City.
"Growing up by the beach has given me an intimate and personal relationship with the ocean," said Dark. "The paintings I love the most tell a narrative. They lend truth to artist's life and gives the viewer a snapshot of what type of person they were.
"I want my paintings to be a window of my existence and proof of how I experience my surroundings. I'm drawn to the way light hits the ocean and the different characteristics it can have under certain conditions. I attempt to paint the ocean as if I were painting a portrait. Meticulous lines in the water I paint represent motion, form and life.
"I believe realism is the best solution to telling the truth in painting. It is so easy to create something when you experience it yourself and are there to study it. It is like revisiting a memory in your life and sealing that moment in time. When people look at my work I want them to feel the way I felt at that moment.
"I want them to see the world through my eyes. I want them to notice all of the details in nature that I notice and love. Every painting I create is connected to a particular memory. Where I am emotionally in my life heavily dictates the scene I paint and how I paint it.
"For example, 'The Edge of Temperament' was created during an extremely difficult period in my life. I was so furious I rushed out of my house and drove directly to the inlet to walk to the edge of the jetty to look out at the ocean. That painting captures not only that moment in my life but the emotions that came along with it."
The Art Space is located in the Guerrieri Student Union's second-floor concourse. Admission is free and the public is invited. For more information call 410-543-6247 or visit the Art Space website at http://www.salisbury.edu/guc/artspace.