Tuesday, February 7, 2017
Four SU Students Named Fulbright Semifinalists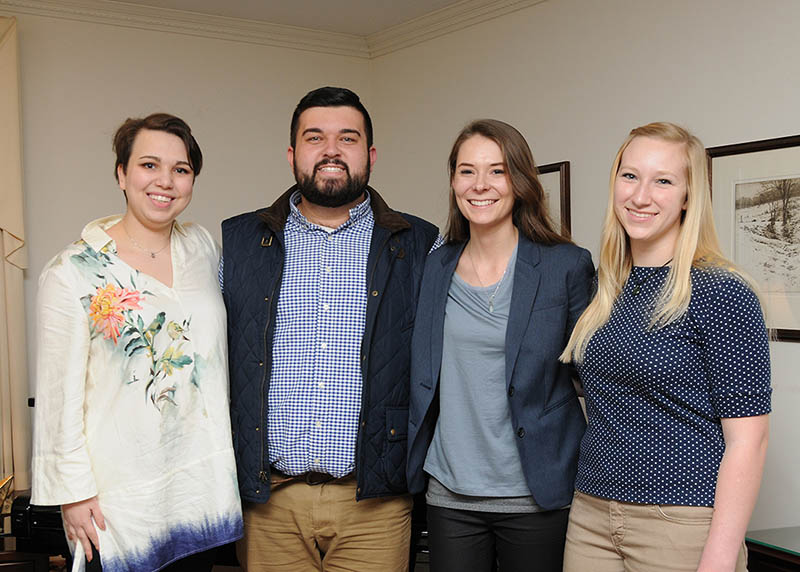 SALISBURY, MD---Four Salisbury University seniors are semifinalists for prestigious Fulbright awards that would take them on adventures ranging from conducting neuroscience research in Sweden to teaching English in Spain and Asia.

Hannah Ennerfelt is being considered for a study/research grant at Uppsala University, the oldest campus in the Nordic countries. Brittany Bursa, Katherine Potvin and Matthew Jones are being considered for English Teaching Assistantships to Spain, Mongolia and Thailand, respectively. Three of the students are in the SU Honors College.

"Being a semifinalist is a big deal!" said an enthusiastic Dr. Kristen Walton, director of SU's Nationally Competitive Fellowships Office. "This reflects well on the University, Honors College and, most of all, the hard work of these exceptional students. Their applications are in the final stage of review by their host countries."

"The advancement of these students, the most SU has ever had at one time, showcases the excellent academic opportunities offered at the University and the commitment by our faculty to providing mentorship and guidance," said Dr. Diane Allen, SU's provost and senior vice president of academic affairs. "At a mid-size campus like Salisbury, having an office dedicated to helping students compete for such national opportunities also is a win-win."

Ennerfelt, of Salisbury, is pursuing a dual degree in biology and psychology and is planning on a career in neuroscience. With the Fulbright, she hopes to conduct ALS stem cell research in a neuroscience lab at Uppsala. "The lab is an amazing fit for my goals to research this disease," she said, adding that she already has citizenship in Sweden, thanks to her father's family roots.

Discussing her SU faculty mentors, including Drs. Jessica Clark and Echo Leaver, Ennerfelt said: "The small faculty-to-student ratio really allows for conversations that spark ideas and research."

Bursa, of Flemington, NJ, is pursuing a bachelor's in English and secondary education with a minor in art. She said a world renowned program like the Fulbright Assistantship combines her passion for educating kids with knowledge of how schools abroad function. She plans to pursue advanced degrees in international and comparative education, encouraged by her mentor, Dr. Loren Marquez of SU's English Department.

Bursa hopes living in Spain also will enhance her own language proficiently – in Spanish – which she first picked up from her bilingual mother.

Potvin, of Salisbury, is pursuing a bachelor's in English for Speakers of Other Languages (ESOL), with a K-12 certification. She said she applied to teach in Mongolia – a country that she first learned about as a 6-year-old child – as it builds its educational policy as a relatively young democracy, independent from Russia and China.

"I want to see the curriculums that other countries use," she said. She credits Dr. Anjali Pandey of English as the reason she fell in love with linguistics.

"Hannah, Brittany and Katherine are excellent examples of motivated, driven, SU Honors students," said Dr. Jim Buss, Honors College dean.

Jones, of Salisbury, is pursuing a bachelor's in elementary education with an ESOL minor. He already has taught abroad, completing part of his internship in Tauranga, New Zealand. He also was part of the PATHWAYS undergraduate research cohort at SU studying effectiveness in math education.

"Thailand is a beautiful country with so much to offer!" he said, adding that he hopes to gain strategies to incorporate into his classroom and further appreciation of diverse learning environments.

More than 20 SU students have won national (and international) fellowships, scholarships and awards in the past five years, including the Gilman, Gates Cambridge and others with the U.S. State Department, Environmental Protection Agency and National Science Foundation. Three have been Fulbright winners: Payge Jennings '14 (B.A. Communication Arts) and Emily Lembo '14 (B.A. English) earned English Teaching Assistantships to South Korea. Charles Overholt '11 (B.A. History) was SU's first graduate student to earn a Fulbright to study and research in Marburg, Germany.

In addition, SU has a long history of faculty and administrators who have earned Fulbrights. The campus was spotlighted in The Chronicle of Higher Education as one of the nation's top producers of Fulbright Scholars for 2015-16.

The Fulbright is America's flagship international exchange program and is sponsored by the U.S. Department of State's Bureau of Educational and Cultural Affairs.

SU students or alumni who are interested in applying for any national fellowships, may contact Walton at kpwalton@salisbury.edu for assistance. For more information, visit www.salisbury.edu/nationalfellowships.