Monday, December 19, 2016
Four Honored with SU Alumni Association Faculty Appreciation Awards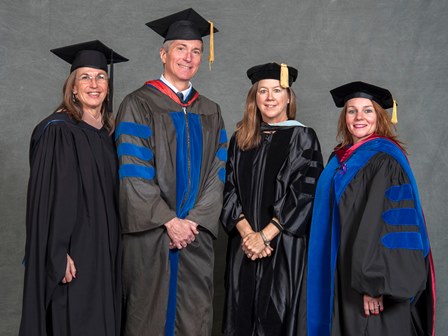 From left: Paula Morris, Dr. David Rieck, Dr. Laurie Andes and Dr. Chrys Egan.

SALISBURY, MD---This year's Salisbury University Alumni Association Faculty Appreciation Award winners are "exciting," "outstanding," "vested" and "positive," according to their former students.

The association honored four with the accolade during SU's 91st-year Fall Commencement. They include Dr. Chrys Egan, Communication Arts, of the Charles R. and Martha N. Fulton School of Liberal Arts; Dr. David Rieck, Chemistry, of the Richard A. Henson School of Science and Technology; Paula Morris, Management and Marketing, of the Franklin P. Perdue School of Business; and Dr. Laurie Andes, Teacher Education, of the Samuel W. and Marilyn C. Seidel School of Education and Professional Studies.

"These are professors whose efforts have made a lasting impression on students, who have provided dynamic classroom instruction, who exhibit attributes graduates can take with them into their careers and who have made a difference in the lives of their students," said Julius Jones, Alumni Association president.



.: Related Sites :.

.: Related News :.

In their nominations, alumni raved about the faculty members who helped shape their experiences at SU.

"Dr. Egan taught an exciting class about technology that had me completely engrossed in the material all semester long, not just because of the topics but the way she presented the, at times, strange material in a very relatable manner," said one former student. "[She] had us volunteer at an afterschool facility to keep kids off the streets in a dangerous area. I honestly was dreading having to take time out of my day to help kids, but after spending time with them and even helping give out food at the facility, I was appreciative of the experience and how by simply volunteering I could make a difference in a life of a child."

"Dr. Rieck taught me how fun learning and teaching science can be," said his nominator. "In labs, he taught me the importance of neatness and accurate data collection. I have since passed this information on to hundreds of students." Another former student added: "Dr. Rieck is an outstanding educator and role model for his students. He has inspired many students to continue with their education and pursue graduate degrees. He deserves a great deal of credit for his good work."

"I have never had an educator who was as vested in his or her students' professional and personal success as Paula Morris," said her nominator. "She has gone above and beyond the call of duty to provide me with the support and resources I needed to become employed soon after I graduated from SU. I enrolled in two of her marketing courses in the Perdue School, and immediately, I could tell she was different than many of the other professors. She based her lesson plans around projects that her students could use to further their professional development, and she was willing to give her free time to ensure that they would be successful."

"Dr. Andes was an excellent professor and mentor to me while I was at Salisbury," said a former student. "She even kept in touch and helped give me guidance during my first few years in teaching. She had so much knowledge and created a fun learning environment. She always was available if you needed help with an assignment or just some advice. Dr. Andes made such a positive impact on me that I even got my master's degree in education, specializing in reading. She showed a love for teaching reading, the importance in reading and how to make kids love reading. Through all my years of schooling, I still consider Dr. Andes my favorite teacher."

For more information call 410-543-6030 or visit the SU website at www.salisbury.edu.