Thursday, February 18, 2010
Four Earn SU Alumni Association Faculty Appreciation Awards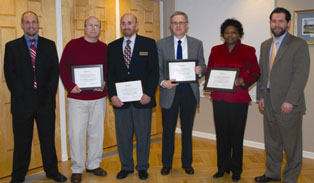 Pictured, from left: SU Alumni Association President Rob Schutheis, Drs. Wayne Ackerson, Robert Settle, Homer Austin and Nomsa Geleta, and Jason Curtin, director of alumni relations and annual giving.

SALISBURY, MD---The Salisbury University Alumni Association's annual Faculty Appreciation awards honor professors who have been inspirational to SU students.

"We always receive outstanding nominations from our alumni," said Jason Curtin, director of alumni relations and annual giving. "And, with so many deserving faculty, the awards committee always finds the selection process difficult. The honorees have all made exceptional contributions to the quality education that our graduates receive, and it's nice to acknowledge their efforts."

Recognized at the alumni board meeting on Wednesday, February 17, this year's recipients are Drs. Wayne Ackerson of the History Department, Homer Austin of the Mathematics and Computer Science Department, Nomsa Geleta of the Education Specialties Department and Robert Settle of the Management and Marketing Department.

In nomination letters, their students said:

"[Dr. Ackerson] really knows how to make history vivid and real as well as easy to learn. While his classes were challenging, he also encouraged his students to expand their interests and participate in campus activities and events."

"Dr. Austin is one of the most approachable, understanding and enthusiastic professors and advisors. He can make statistics come alive and that is truly a remarkable feat."

"I am a better teacher now because [Dr. Geleta] supported me during student teaching. She has gone above and beyond to teach about diversity and culture."

"[Dr. Settle's] instruction and mentorship has carved a lasting impression that has helped propel me towards my goals in life, both business and personal."

To be eligible, nominees should have served on the faculty full time for at least 10 years. They also should provide dynamic classroom instruction, exhibit attributes that graduates can take with them into their careers, and make a lasting impression on students and a difference in their lives.