Monday, March 18, 2013
Former ADRA Director Speaks on Experiences with Genocide in Rwanda Tuesday, March 26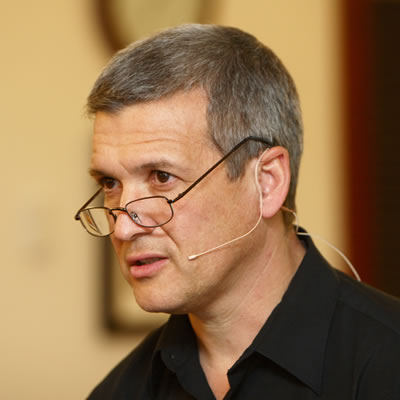 SALISBURY, MD---As others escaped from Rwanda during the start of genocide, Adventist Development and Relief Agency International Director Carl Wilkens chose to stay.

Soon, he was the only American left, defying orders to leave.

Today, as director of the educational non-profit organization World Outside My Shoes, he discusses his decision and efforts in Rwanda as the next speaker in the "One Person Can Make a Difference Series," hosted by Salisbury University's Bosserman Center for Conflict Resolution.

His presentation, "I'm Not Leaving! Why the Sole American Stayed in Rwanda During the 1994 Genocide," is 7 p.m. Tuesday, March 26, in the Great Hall of Holloway Hall.

After sending his wife and three children back to the United States via an American convoy to Burundi, Wilkens remained at their Rwandan home, providing refuge for Tutsis who were being hunted and slaughtered.

After several weeks, he ventured out in hopes of saving others. In Gisimba, he witnessed armed militiamen lying in wait to kill children and caretakers residing at an orphanage; however, they were hesitant to do so while he was present. After securing a handful of grenades for those inside to defend themselves, he left to seek help from Col. Tharcisse Renzaho, governor of Kigali, who directed him to Hutu Prime Minister Jean Kambanda, a key player in the genocide movement.

With Wilkens' encouragement, the orphans and their caretakers were spared. He similarly helped save approximately 100 children who sought shelter at the Vatier Orphanage and 12 survivors from Nyamirambo Adventist Church, arranging to transport them to sanctuaries outside the war zone.

When the Rwandan Patriotic Front took over Kigali in early July, after nearly three months of fighting, Wilkens chose to extend his service, helping distribute food, water and supplies to residents still living in the region, as well as those displaced to refugee camps.

He briefly returned to the United States before going back to Rwanda with his family for 18 months, starting in 1995, to assist with reconstruction. Since then, he has turned his attention toward aiding genocide victims in Darfur and working with World Outside My Shoes.

Wilkens' talk is sponsored by the Provost's Office, Charles R. and Martha N. Fulton School of Liberal Arts, Samuel W. and Marilyn C. Seidel School of Education and Professional Studies, Bosserman Center for Conflict Resolution, Conflict Resolution Club and Eastern Shore Writing Project. Admission is free and the public is invited.

For more information call 410-219-2873 or visit the SU Web site at www.salisbury.edu.