Wednesday, July 2, 2008
Folk Heroes, Burke Family Perform July 9 at SU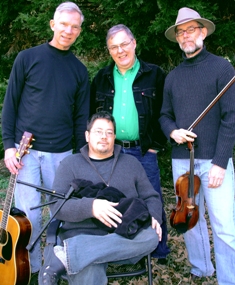 SALISBURY, MD---The Folk Heroes and Burke Family Singers perform at Salisbury University's Holloway Hall Auditorium 7 p.m. Wednesday, July 9, during the Maryland Summer Center for the Arts.
The Folk Heroes is a local Eastern Shore band composed of four members who have been playing in the area for more than 12 years. They play a variety of music including American and Irish folk tunes both old and new. Kelli Myers of the Dover Post described their style as being "from Irish rebel music… to fiddle tunes and traditional American folk songs. The Folk Heroes offer to their audience a style all their own."
The Burke Family Singers is an all-family choir performing a cappella gospel music featuring inspirational hymns and spirituals. According to a fan, "There is the sight of the Burke Family members, aged four to 60, lining up in ever-lengthening and ever multiplying rows, in front of an expectant audience. There is the gentle swaying of bodies of large and small as they keep time to each song."
The Salisbury Wicomico Arts Council (SWAC) will donate all net proceeds from the concert to MAC Inc., which will support programs and services for our senior citizen community.
This concert is presented by the Salisbury Wicomico Arts Council and the Maryland Summer Center for the Arts at SU. Prior to the evening concert, The Folk Heroes and The Burke Family Singers conduct a master class for Summer Center students. Through the class, both groups will educate high school performing arts students about their own musical genres through the creative and business aspects of their experiences.
Tickets for the public concert are $15 for adults, $12 for SWAC members and seniors, and $5 for children 12 years and under, and may be purchased with Visa or Master Card by calling 410-543-2787. Tickets are also available through SWAC's bank ticket outlets at all PNC Bank and Bank of Delmarva locations. For more information call 410-543-2787.