Thursday, June 7, 2007
Five Win 2007 SU Diversity Awards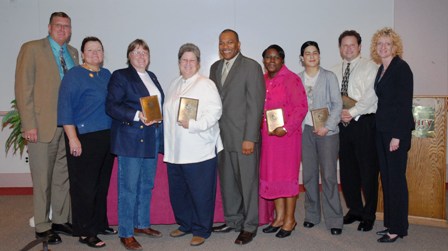 SALISBURY, MD---Salisbury University recently honored five members of the campus community, presenting them with its 2007 Diversity Awards.
Pictured, from left, are SU Provost Tom Jones; President Janet Dudley-Eshbach; faculty recipients Diana Wagner of the Education Department and Diane Illig of the Sociology Department; Kevin Carreathers, director of institutional diversity; staff recipient Shirley Pinkett, assistant director of facilities services; student recipient Floriana Echeverria of Bethesda, MD; and Dr. Ellen Neufeldt, vice president of student affairs.
Sponsored in part by Target Stores Inc., the awards honor those who promote the educational benefits of diversity. Each winner receives $200. For more information call 410-543-6030 or visit the SU Web site at www.salisbury.edu.