Monday, October 9, 2006
Five Inducted Into SU Athletics Hall of Fame
SALISBURY, MD---Salisbury University recognized the contributions of five former athletes by inducting them into the Athletics Hall of Fame during the annual banquet during last weekend's Homecoming festivities. New inductees included Robert Cannon (1980), Jason Coffman (1996), Daniel Mergott (1995), Joseph Powell (1974) and Kimberly (Roth) Andrikanich (1995). This brings the Hall's total number of inductees to 91.
***
Robert Cannon (Class of '80)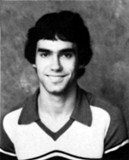 Bob Cannon, a 48-year-old resident of Salisbury, earned four varsity letters in cross country and track and field while at SU. The versatile runner held records in the 600-yard sprint, 880-yard run, 1,000-yard run, 400-meter run, 800-meter run and two mile relay. His time of 3:30.1 in the sprint medley relay still stands as the SU record.
"It's a great feeling to be inducted," Cannon said. "I wasn't expecting it at all."
Cannon still enjoys running and also serves as an official for high school and college football games. He was a marshal arts instructor for 20 years and competes on a karate team.
"Being involved in athletics is important because it teaches you time management," he said. "It helps you succeed in your normal life. It keeps you in school. I know it motivated me." Cannon, who has three children, is employed at Perdue Farms.

***

Jason Coffman (Class of '96)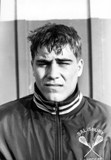 Jason Coffman, a 32-year-old resident of Carthage, NY, has been cited as one of the best men's lacrosse players in SU history. The only freshman named to the USILA all-American team as a first team attack selection, Coffman was recognized by Lacrosse Magazine as one of the "Top Five Players in Division III." A member of the 1994 and 1995 national championship teams, he earned the National Player of the Year Award in his sophomore and junior years. He graduated as the SU career leader in virtually every statistical category and his career point total is an NCAA record.
Coffman said it's a great honor to be inducted: "You get to come back and relive so many memories. Coach (Jim) Berkmam was always fantastic to me and Dr. (Michael) Vienna (SU athletics director) treated me like gold. I consider them my friends for life. Playing with the teammates I had, winning national championships – those are my best memories from college."
Coffman is a physical education teacher at Carthage Central High School, where he is also an assistant varsity football coach and the head junior varsity lacrosse coach. He said he still plays in lacrosse leagues in his hometown of Carthage and in the annual Lake Placid summit lacrosse tournament.
***
Daniel Mergott (Class of '95)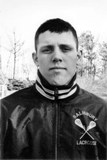 Dan Mergott, a 33-year-old resident of Berlin, MD, was also a member of the 1994 and 1995 men's lacrosse national championship teams. In his junior year he moved from the attack position to midfield to better utilize his overall athletic ability – and the move paid off as he earned second-team USILA all-American honors. In his final season, Mergott was named a first-team all-American and the National Midfielder of the Year.
"One of my favorite games was my last game (at SU) against Nazareth," Mergott said. "I played well and the team played well and we just destroyed them."
Mergott looks forward to his Hall of Fame induction. "It's one of the greatest honors they give out to student athletes," he said. "It doesn't really hit you until you see it (in the case). I remember being at school and looking in that thing and seeing all the Hall of Famers."
Mergott teaches students in Worcester County's Bridges Program, a credit recovery program for at risk youth. He also coaches women's basketball at Stephen Decatur High School. He resides in Berlin with his wife Amy Fenzel-Mergott ('95), a former women's basketball standout. The have two children – Luke, 2, and Mary, 3.
***
Joseph Powell (Class of '74)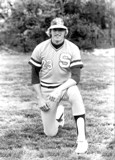 Joe Powell, a 55-year-old resident of Delmar, MD, earned four varsity letters in baseball while at SU. He was named team captain and MVP in 1973. In his final season, he was named to his fourth consecutive all-conference team and was nationally recognized as an honorable mention all-American.
Powell said his last game at SU was one of his most memorable because he hit for the cycle – although he can't remember in what order. "I enjoyed my teammates, you get to know the other players on the team real well," Powell said. After college, he said he had the opportunity to attend pro try-outs, but ultimately decided against it.
While Powell's knees no longer allow him to play baseball he said the game is still a part of his life as he plays it through his son, Brad, 20, who was a member of the baseball team at UMES for the past two years. Powell said he also occasionally made it back to SU to watch the volleyball games of his nieces, Suzanne ('04) and Jessica, a sophomore. Powell is currently employed at Cato Gas & Oil in Salisbury.
***
Kimberly (Roth) Andrikanich (Class of '95)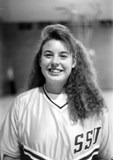 Kim (Roth) Andrikanich, a resident of Oxford, PA, was the 1994 and 1995 women's basketball team captain and MVP. In 1993 she set the school record for most rebounds in a game by corralling 32. Roth was only the second player to make it to the exclusive 1,000-1,000 club for totaling over 1,000 career points and 1,000 career rebounds.
"Not only did I learn a lot but I was able to make great friends that have lasted a long time," said Andrikanich, who still keeps in touch with some of her teammates.
***
For more information call 410-543-6030 or visit the SU Web site at www.salisbury.edu.