Friday, May 4, 2007
Final Beam Marks Celebration at TETC Site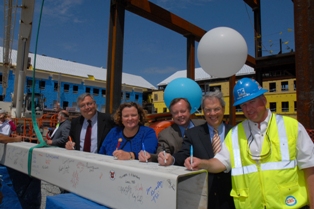 From left: Greig Mitchell, SU vice president of administration and finance; SU President Janet Dudley-Eshbach; J. Eric Moss, principal of Ayers Saint Gross Architects + Planners; Tommy Holder, owner of Holder Construction Co.; and Danny Bohlen, project superintendent, sign the final beam before its installation at the Teacher Education and Technology Center.
SALISBURY, MD---They came from as far away as Atlanta, focused on a single mission: construction, and in the process are boosting the local economy.
Now, the names of the workers helping erect Salisbury University's Teacher Education and Technology Center (TETC) will remain a part the building forever. Some 130 of them ceremonially signed the structure's final steel beam before it was hoisted into place during a workers appreciation luncheon.
The festive topping-out ceremony, featuring remarks by SU President Janet Dudley-Eshbach, Holder Construction Co. project superintendent Danny Bohlen and senior project manager Shaun Haycock, marked the halfway point of construction on the $54.7 million building, slated to open in fall 2008.
To meet that deadline, officials with Holder hope to finish the building in May 2008—two full months ahead of schedule. The advanced timetable—Holder is already six weeks ahead of schedule—is part of a charter issued by the company, as well as project design firm Ayers Saint Gross Architects + Planners of Baltimore, SU and the University System of Maryland.
"Every construction project has the typical goals of being completed on time and under budget," said Haycock. "We really took it a step further and talked about the specific goals of each partner in this project."
The accelerated timetable should allow SU to meet its goal of holding its first classes in the building in August 2008.
Of the 130 contractors and subcontractors currently working on the building, 25 work on the building's mechanical aspects as pipe fitters, plumbers and sheet metal workers; 20 are masons; 20 are drywall installers; 15 are electricians; 12 are in management; 10 are ironworkers, seven are roofers; and another seven work in concrete.
Most are regional employees subcontracted by Holder. Those who are not rent houses or apartments in the area, adding to the local economy.
Once completed, the three-story, 165,000-square-foot TETC will be the new home of SU's departments of Education and Social Work within the Samuel W. and Marilyn C. Seidel School of Education and Professional Studies. It also will house an Integrated Media Center with state-of-the-art technology that includes studios for television production and music recording, editing facilities, a photography center and a cutting-edge multimedia art exhibition gallery. Other notable features include a 124-seat mega-computer lab, a Distance Learning Center and outdoor classrooms.
For more information call 410-543-6030 or visit the SU Web site at www.salisbury.edu.