Thursday, February 28, 2013
Family Ties Connect SU Students, Alumni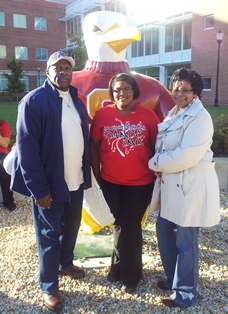 Gregory McLaurin, Shayla McLaurin and Peggy Hutchins McLaurin

SALISBURY, MD---When former Salisbury University President Norman C. Crawford took office in 1970, only three of the campus' 965 students were African-American.

Crawford made increasing diversity on campus a priority. His successors, including President Janet Dudley-Eshbach, who has led the University since 2000, continued that philosophy. Today, more than 21 percent of SU's 8,400 students come from diverse backgrounds, including over 950 African-Americans.

Many are drawn to the campus due to its strong academic reputation, demonstrated by consistent national rankings in college guidebooks published by U.S. News & World Report and The Princeton Review, among others. Some enjoy the cost-to-quality ratio of SU, recognized by Kiplinger's Personal Finance as one of the nation's Top 100 "Best Values in Public Colleges."

For others, however, it's a family affair. That's part of the reason freshman music major Shayla McLaurin of Dover, DE, became a proud Sea Gull.

"Salisbury had a family atmosphere," said her father, Gregory McLaurin, who earned his B.A. in social work from Salisbury in 1979. The former SU football team captain and Black Student Union president hopes his daughter follows in his footsteps as a campus leader. "I've encouraged Shayla to step into that role in her own way," he said.

Shayla's mother, Peggy Hutchins McLaurin, agreed with her husband, adding that she enjoyed the close-knit friendships she formed as a member of SU's Class of 1982.

"Large campuses are OK for some people, but SU was just right for me," she said, noting that she enrolled in SU's elementary education program due to its well-regarded reputation in the late 1970s. "It is large enough for Shayla to pursue what she wants to do, but it still has that tight-knit feel."

Of course, Shayla had some say in which college she wanted to attend, as well. "I wanted to go somewhere out of state, but still familiar," she said, adding that she was drawn to SU not only because of her parents' connection, but because she was able to enroll in a music technology track. So far, it has lived up to her expectations: "I love it here."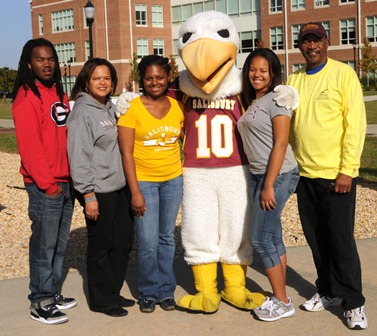 The Bradley Family

Landover, MD, resident Takeia Bradley also loved SU. After earning her B.A. in psychology in 2000, she encouraged other members of her family to enroll. "I told my other siblings about it. Maybe harassed them a little," she laughed. In 2012, the "harassment" paid off for her younger sister, Briana, whom she accompanied on a campus visit. Today, Briana is a freshman, majoring in nursing.

The sisters share a mutual adoration for the University. "I really liked the vibe I got during my initial visit," said Takeia, who has pursued a career as a senior contract administrator at the University of Maryland, College Park. "I liked that it was a smaller institution. It was really what I needed at that age. It was a feeling I didn't get from any of the other institutions that I visited."

Neither did JaLeesa Tate of Salisbury, who earned her B.S. in geography and geosciences from SU in 2012, the same year her older sister, Ciara Cooks, received her B.A.S.W. from Salisbury as a transfer student.

Following her first experience at SU during a Multicultural Visitation Weekend, Tate "really fell in love with the campus. Everywhere you went, everybody made you feel welcome."

During her time at SU, the geography laboratories fostered a sense of community, where juniors and seniors were happy to help freshmen and sophomores with projects similar to those they had conducted during their earlier years on campus, she said. Her campus job in the Admissions Office also gave her a unique perspective not only on SU, but on the college admissions process in general—one that she passed on to her younger sister, Leigh Tate.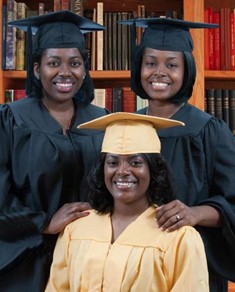 JaLeesa Tate, Leigh Tate and Ciara Cooks

"Since I worked in admissions, I really encouraged Leigh to go on campus visits to different colleges, which I never did," she said. "They really give you a feel for the schools."

After one such visit, Leigh chose SU, as well. Today, she is a freshman majoring in nursing and enjoying the same sense of camaraderie her sisters experienced at their Alma Mater.

Jewel Jordan of Capitol Heights, MD, visited SU a number of times before deciding to pursue her degree in Salisbury, thanks in large part to her cousin Jonné Woodard, who, as an environmental studies major at SU, earned a prestigious $42,500 U.S. Environmental Protection Agency Greater Research Opportunity Fellowship prior to her graduation in 2012.

"I was always on campus, hanging out with her and going to SU events," said Jordan. "During that time I felt camaraderie, and I was really welcomed. I met a whole lot of really awesome people who help me now."

The freshman communication arts major was accepted at several other institutions, including the University of Maryland, Baltimore County; the University of Pittsburgh; and St. John's University in Queens, NY, but chose SU: "Salisbury was more affordable. It was closer than some of the colleges, and I really liked the sense of friendly openness. The professors are really great here, too."

Jordan became involved in the campus community even before her first day as a freshman, entering and winning the University's annual New Student Reader essay competition, for which she earned a Bookstore gift card and dinner with President Janet Dudley-Eshbach, Provost and Senior Vice President of Academic Affairs Diane Allen, and New York Times bestselling author Jennifer Thompson, among others. Since then, she has joined the SU German Club and the Filipino American Cultural Association, and is looking to expand her horizons even more.

"[My cousin] would tell me about all the great things she got to do here," Jordan said. "She said the
| | |
| --- | --- |
| | |
| Jewel Jordan | Jonné Woodard |
Christian community here was really supportive. It's just a very uplifting, positive campus."

Vaughn White, director of multicultural student services at SU, said he was glad so many alumni had such a positive experience that they are now recommending the University to their children, siblings and other relatives.

"It's important to us not only to put our best foot forward while potential students are visiting campus, but during their entire time as students and beyond," he said. "Every time I hear about one of our 'legacy' students on campus, I know we have succeeded in that goal. It's great that so many of our alumni want to make members of their families part of the SU family, as well."

For more information call 410-548-4503 or visit the SU Web site at www.salisbury.edu.