Thursday, August 13, 2015
Fall PRESTO Class Registration Open at SU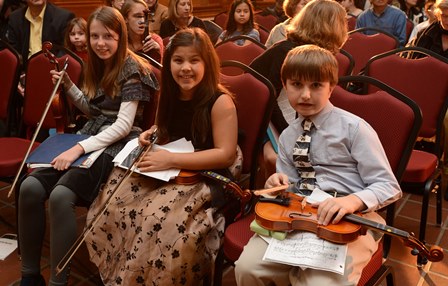 SALISBURY, MD---Since 2010, Salisbury University's PRESTO performing arts educational outreach program has provided a musical foundation for many students.

For the first time, instruction will expand beyond instruments and voice this fall with the addition of a theatre course.

Available for students in grades 8-12, the performance-based class is designed to introduce participants to basic principles of acting and character analysis. An open house for interested parents and students, with instructor Mary-Tyler Upshaw, is 4:40-5:30 p.m. Thursday, September 3, in Fulton Hall Room 203.

An open house for those interested in participating in the program's Suzuki violin group class, with instructor Bethany Jubilee, is 4-4:50 p.m. Wednesday, September 2, in Fulton Hall Room 245. Light refreshments will be provided at both.

PRESTO also offers a six-week adult group piano class with instructor Nan Richerson this fall. Individual instruction is available in piano, strings, voice, guitar, and most band and orchestral instruments. Approximately 70 students participate each semester.

Individual lessons begin the week of September 7. Students participate in 12 weekly sessions each semester, culminating in a student recital on Tuesday, December 15, in the Great Hall of Holloway Hall.

"We are very proud of what we have seen our students accomplish in the past five years," said Dr. Sachi Murasugi, PRESTO founder. "Several have gone on to join the Salisbury Youth Orchestra and perform in area music productions. Some also have continued to pursue music careers in college after participating in PRESTO."

Cost for private lessons with professional instructors range from $330 per semester for 30 minutes ($27.50 per lesson). Half-hour sessions with student teachers are available for $264 per semester. Lessons for 45 minutes and one hour are also available. Individual lessons are offered on weekday afternoons or Saturday mornings.

Group lessons are $264 for the semester. (Group adult piano is $132 because it is a six-week class rather than a 12-week course.) Group classes are 50 minutes each.

Need-based scholarships are available. Except for piano, students are required to bring their own instruments.

To register for classes, call 410-548-2985 or email presto@salisbury.edu. For more information, visit the Presto website at www.salisbury.edu/musicdept/presto.