Monday, October 23, 2017
'Evening of Percussion' Concert at SU Thursday, November 16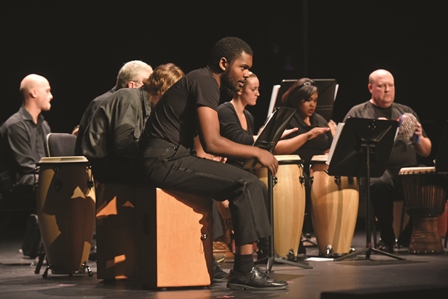 SALISBURY, MD---The Salisbury University Percussion Ensemble performs early and contemporary works during its annual fall concert, "An Evening of Percussion," 7:30 p.m. Thursday, November 16, in Holloway Hall Auditorium.

Directed by Eric Shuster, selections include William Russell's 1935 Three Cuban Pieces and Carolyn Chen's 2009 Hamlet. The former is one of eight pieces for percussion ensembles written by Russell at the forefront of the avant garde music movement. The latter, for percussion sextet featuring steel drum, tabla and timpani, flips the traditional relationship of music and theatre.

The SU World Drum Ensemble, directed by Ted Nichols, also performs during the concert, playing "Baga Gene" by Malinké master drummer Famoudou Konaté. The song tells the story of a Baga woman who hears music and, at first, doesn't want to dance; soon, however, she feels she has to because the music is so good.

Sponsored by the Music, Theatre and Dance Department, admission is free and the public is invited. For more information call 410-543-6385 or visit the SU website at www.salisbury.edu.