Friday, December 7, 2012
Environmental Studies Hosts Film Series December 11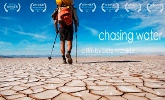 SALISBURY, MD---Salisbury University's Environmental Studies Department hosts a series of short environmental films on Tuesday, December 11. The films will be shown at 7:30 p.m. in Henson Science Hall, Room 103.

Featured is Chasing Water, which chronicles photojournalist Pete McBride's attempt to follow the Colorado River to track the irrigation water that sustains his family's ranch. Also included is Into Darkness, an adventure film that reveals a world of caves and the people who explore them.

The film series is free. Students, faculty, staff and the public are invited. For more information, contact Erin Jones at 410-725-2056 or e-mail ejones3@gulls.salisbury.edu.