Tuesday, January 28, 2014
Electronic Gallery Presents McCoy Exhibit January 30-April 5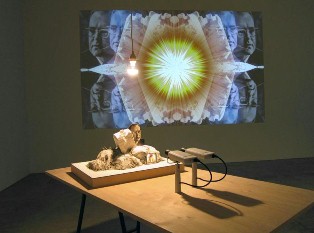 SALISBURY, MD---Kevin and Jennifer McCoy call themselves artists. New York Magazine calls them "wizards."

The husband-and-wife artists from Brooklyn, NY, bring their works to Salisbury University during an exhibit January 30-April 5 in the Electronic Gallery, located in Teacher Education and Technology Center Room 128.

They deliver an artists' talk 5 p.m. Friday, March 28, in Teacher Education and Technology Center (TETC) Room 156. A reception with light refreshments follows outside the Electronic Gallery. Their talk was rescheduled from February 13 due to inclement weather.

Since the early 1990s, the duo has explored art through technology, using various methods from extensive categorization — one exhibit consisted of 1970s television shows such as Kung Fu and Eight is Enough broken down, shot by shot — to reenactment — a sculptural kinetic video installation recreating the couple's first date — to miniaturization. Their most recent works involve remote viewing and speculative modeling, using technology to produce live effects and experiences.

As part of this exhibition, the McCoys have created a new work titled "Marisa's Office." Extending from their curatorial practice, the McCoys use live internet-enabled cameras to film artwork in situ. This site specific, live video feed shows two images in split screen. One image results from a camera in the office of Galleries Manager Marisa Sage, showing a 1982 portrait of Jane Fonda taken by Andy Warhol.

The other image is live feed from the McCoys' studio, where a small television plays the Jean-Luc Godard's and Jean-Pierre Gorin's film Letter to Jane on loop. Letter to Jane was made 10 years before the portrait and served as a cinematic essay deconstructing a news photograph from Fonda's famous trip to Vietnam.

In comparing the two images — one photo, one film transferred to video, all projected in the gallery through real-time data feeds — the McCoys examine the speed and immediacy of the contemporary image and its capacity to spark critique in the era of the 24-hour news cycle.

The Washington Post has praised the McCoys' "ambitious electronic work." Art in America called their creations "irresistible." Their work is included in the collections of New York's Metropolitan Museum of Art and Museum of Modern Art, and has been exhibited at galleries throughout the United States and Europe. Other honors include a Wired Magazine Rave Award and a prestigious Guggenheim Fellowship.

Gallery hours are 11 a.m.-5 p.m. Monday-Friday, 11 a.m.-4 p.m. Saturday and other times by appointment. Sponsored by SU Art Galleries, admission is free and the public is invited.

For more information call 410-548-4055, e-mail misage@salisbury.edu or visit the Electronic Gallery website at www.salisbury.edu/electronicgallery.