Friday, March 3, 2017
'Election Autopsy: A Historian Looks at the 2016 Election' March 30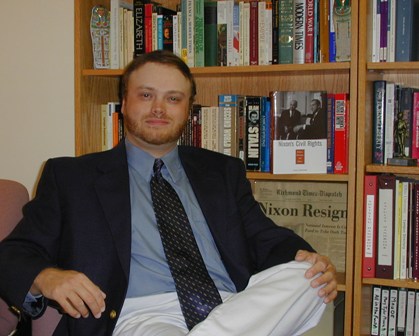 SALISBURY, MD---Dr. Dean Kotlowski, SU professor of history, examines the events and results of last year's U.S. presidential campaigns during the presentation "Election Autopsy: A Historian Looks at the 2016 Election."

His talk is 7 p.m. Thursday, March 30, in Perdue Hall's Bennett Family Auditorium.

A presidential scholar, Kotlowski is the author of two critically acclaimed books examining U.S. politics: Nixon's Civil Rights: Politics, Principle and Policy and Paul V. McNutt and the Age of FDR.

The former established him as one of the nation's leading Nixon experts. He has appeared on C-SPAN multiple times as part of panel discussions and lectures filmed at the Richard Nixon Presidential Library and Museum in Yorba Linda, CA. Last year, he was one of four historians nationwide lauded by the National Archives for his review and authentication of the facility's permanent exhibit redesign.

Kotlowski's SU lecture on Nixon, part of his "America in the 1970s" course, was filmed for C-SPAN3's Lectures in History series. His research into McNutt's career also earned him an appearance in the PBS documentary Rescue in the Philippines: Refuge from the Holocaust, sharing the story of McNutt's involvement in the emigration of some 1,300 Jews from Nazi Germany to the safety of Manila in the late 1930s.



Academically, Kotlowski twice has been named a Fulbright Scholar — one of the highest honors in higher education. In that role, he taught at De La Salle University in Manilla in 2009 and served as the Fulbright-Botstiber Visiting Professor of Austrian-American Studies at the University of Salzburg, Austria, in 2016.

Sponsored by SU's Institute for Public Affairs and Civic Engagement (PACE), admission to his talk is free and the public is invited. For more information call 410-677-5045 or visit the PACE website at www.salisbury.edu/pace.