Wednesday, July 27, 2011
Eighth Purnell-Thomas Memorial Tennis Tournament at SU Aug. 17-21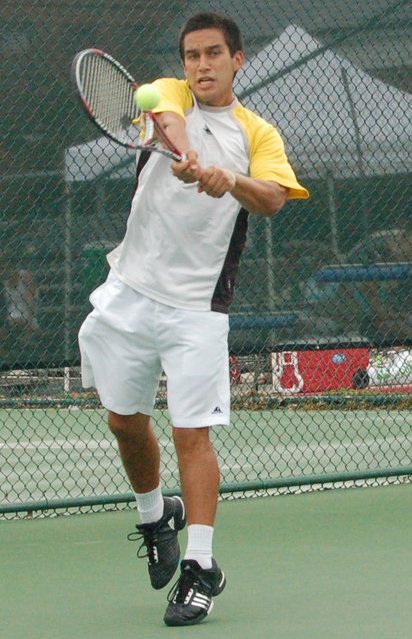 SALISBURY, MD---Tennis isn't just for the pros or even just for adults. It's a family game.
To emphasize that, organizers of the eighth annual Jack Purnell-Chris Thomas Memorial Tennis Tournament open the event with Community Tennis Night from 5-9 p.m. Tuesday, August 16, at the SU tennis courts on College Avenue. Guests of all ages are invited to meet this year's players in person and watch them compete in events including fastest and most accurate serve competitions.
That evening, local amateurs will also have the opportunity to play with the professionals during the tournament's second annual pro-am challenge. The entry fee for the amateur players is a $50 tax-deductable contribution to Coastal Hospice, the tournament's beneficiary. Space is limited, and advance sign-ups are recommended.
The pro-am may be a welcome diversion for some players, who will compete for $30,000 in prize money during the five-day men's open doubles and singles tournament, Wednesday-Sunday, August 17-21.
Many professional players ranked as high as 150 in the world and numerous up-and-coming college players will enter the draw. Several take advantage of the proximity of this tournament to the U.S. Open Tennis Championships in New York City as a warm-up and practice for the U.S. Open. The court surface and weather conditions, including heat and humidity, are similar to those the players experience in the Big Apple the week following the Purnell-Thomas Tournament.
The tournament is named in honor of two late local tennis players. Born in 1929, Purnell was an avid baseball player and went on to become the youngest general manager for a farm team of the Cincinnati Reds before working in the public relations office of the National Baseball League. After returning to Salisbury he operated his family's business, Kuhn's Jewelers, and took up tennis and golf. He was a community advocate and founding board member of Coastal Hospice prior to dying of cancer in 2002.
Thomas grew up in southern New Jersey and Salisbury. A natural athlete, he was a graduate of SU, where he was a member of the men's tennis team. He left the East Coast in 1980 to work as a tennis pro in Hawaii and Guam. He returned to the area in 1981 to fight a year-long battle with cancer, dying in 1982 at age 27.
His mother, local artist and educator Sue Thomas, passed away earlier this year. As part of its annual exhibition, the Artists' Co-Op pays tribute to Thomas, a founding member of the organization. The exhibit hangs in the University Gallery of Fulton Hall. Hours are 10 a.m.-4 p.m. Tuesday-Friday. Special extended hours during the tournament are 6-8 p.m. Thursday, August 16, and noon-4 p.m. Saturday-Sunday, August 20-21.
Admission to the tournament and to the exhibit is free, and the public is invited. Play is continuous daily from 10 a.m.-9:30 p.m. For more information visit the tournament Web site at www.purnell-thomas.org, or contact tournament coordinator Michele Thomas at 410-548-1100, ext. 1029, or shell@bankofdelmarva.com.