Monday, August 15, 2011
Editorial: While Everything Else Shrinks, SU is Growing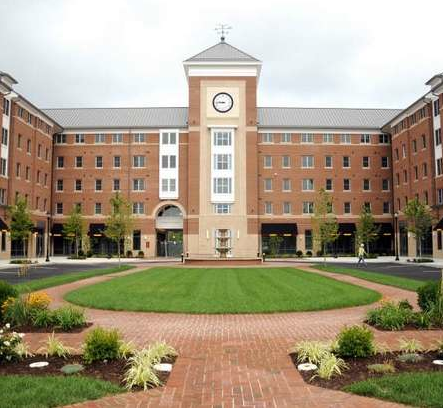 SALISBURY, MD---At a time when everything--budgets, the economy, family incomes, wages and benefits, the job market--is shrinking, Salisbury University is expanding.
The 165,000-square-foot Teacher Education and Technology Center on the corner of College Avenue and Route 13 dwarfed its nearest neighbor, Fulton Hall, when it opened in September 2008, transforming the northeastern corner of the campus that had previously served as a parking lot.
Completion of the new 112,800-square-foot Perdue School of Business is nearly at hand. Located near the Bateman Street campus entrance, its design and size are a good match to the TETC. And at the southeastern end of the campus, also facing Route 13, sits the newest and largest component to date in SU's growth spurt--the 230,000-square-foot Sea Gull Square, which will be dedicated in October.
Sea Gull Square is different from both TETC and the Perdue School, however, on many levels. While TETC and Perdue are primarily academic buildings, Sea Gull Square serves a dual purpose --housing for students and on the ground floor, commercial space is available. Leases have been signed with a Salisbury hair salon, a pharmacy and two eateries. Four additional spaces are in the process of being leased, and three more locations are available for lease.
Sea Gull Square, which like University Park is a private-public partnership, is unique to Salisbury partly because it is on-campus housing with a full array of security features for the more than 600 students who will move in soon. It is arranged more like apartments than in a traditional and institutional way, with long hallways lined with doors on both sides. Apartments, most housing four students each, have two bathrooms and are fully furnished and outfitted. The design is focused on energy efficiency and environmentally friendly living.
The other thing that makes Sea Gull Square special is the retail component, which is primarily to serve the SU student population, but will also be open to Salisbury residents. This should mean that even though it's on-campus housing, students and residents will have opportunities to mingle casually, in a commercial setting.
Otherwise, Sea Gull Square's exterior design is a good fit with its new on-campus neighbors along Route 13.
Just a few years ago, a drive along Route 13 south of College Avenue offered only glimpses of the campus, most of which was set back from the highway. Today, that Route 13 face of the university is bold, visually coordinated and fresh, bustling with activity and practically busting at the seams. The university's student population has grown to roughly 8,500 students.
In the late 1990s, growth centered around academic facilities on the campus, leading to an on-campus housing shortage and undue tension between too many students living off-campus and their neighbors. Beginning with University Park, SU's first off-campus housing that was built as a public-private partnership and continuing with Sea Gull Square, SU has done a good job of pacing its population growth with expanded housing opportunities, taking some of the pressure off of nearby residential neighborhoods.
Salisbury University has become a vital component in our city's life and commerce, providing jobs and cultural opportunities for residents. In turn, SU has channeled some of its students' energy and drive toward community service, hosting major events at least twice each academic year in which students provide labor to city residents in the form of chores, yard work, minor upkeep and more.
Salisbury University has also transformed the southern corridor of Route 13, with the promise of more expansion and construction to come on the other side of Route 13.
We are approaching a tipping point, when Salisbury will cease to be a town with a college and slip comfortably into its new identity as a college town.
Reprinted courtesy of The Daily Times